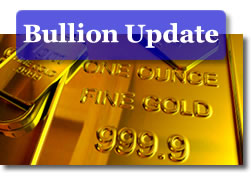 U.S. markets were pulverized Tuesday after China unexpectedly hiked interest rates.
The action boosted the U.S. dollar, which sank gold and silver futures prices by 2.6 percent.
Crude oil prices tumbled the most in eight months and below $80 a barrel while U.S. stocks posted their biggest loss in two months. The Dow fell 1.48 percent, the S&P 500 lost 1.59 percent, and the Nasdaq dropped 1.76 percent.
New York precious metals closing prices follow:
Gold futures for December delivery plunged $36.10 to $1,336.00 an ounce on the Comex in New York. It ranged from $1,332.50 to $1,371.70.

December silver plummeted 63.3 cents to close at $23.780 an ounce. It ranged between $23.455 and $24.505.

Platinum for January delivery lost $20.70, or 1.2 percent, to finish at $1,677.60 an ounce. It ranged from $1,661.10 to $1,705.00.

Palladium for December delivery declined $9.65, or 1.6 percent, to $578.450 an ounce. It ranged between $568.10 and $590.45.
In notable bullion quotes of the day:
"China reminds the world that a central bank can in fact raise rates," Frank McGhee, the head dealer at Integrated Brokerage Services in Chicago, said and was quoted on Bloomberg. "It strengthens the dollar and slows down expansion, and will give gold a decent correction."

"The US dollar gained broadly following the Chinese interest rate move as currency market pundits inferred that some sort of back-room deal by which China will gradually allow the yuan to float higher while the US does not quite rush to push the 'QE' button in the manner that markets have anticipated," noted Jon Nadler, senior analyst at Kitco Metals, Inc. "The dollar's 0.64 pop in the wake of the Chinese and Geithner-originated fallout dented precious metals values across the board," he said

"The surprise gain in US housing starts noted this morning also added to the selling pressure in the metals complex as perceptions that the vital real estate sector may in fact be stabilizing even after the removal of government-originated 'sweeteners' took some confidence away from the "QE-must-be" crowd," added Nadler.
In PM London bullion prices, the benchmark gold Fix was $1,339.00 an ounce for a loss of $28.25. Silver was $24.260 an ounce for a pick up of 24 cents. Platinum fell $14.00 to $1,672.00 an ounce. Palladium was $571.00 an ounce, down $11.00.
In coin news, U.S. Mint bullion pieces are off to a solid start this week. Bullion Silver Eagle coins are standing out, with sales rising 100,000 on Monday and 175,000 on Tuesday. Their October total has now topped the 2 million marker, which is already higher than the 1.88 million reached in September. One-ounce Gold Eagles gained 2,500 on Monday and 3,500 on Tuesday. The tenth-ounce size added 5,000 on Tuesday. The following are current October sales figures as published by the United States Mint.
U.S. Mint 2010 Bullion Coin Sales
October
2010 Totals
American Eagle Gold Coin (1 oz)
60,000
947,500
American Eagle Gold Coin (1/2 oz)
3,000
39,000
American Eagle Gold Coin (1/4 oz)
0
54,000
American Eagle Gold Coin (1/10 oz)
25,000
380,000
American Buffalo Gold Coin (1 oz)
Sold Out
209,000
American Eagle Silver (1 oz)
2,000,000
27,480,500
Oil and gasoline prices
China increasing its interest rates punished New York oil prices. Crude futures for November tumbled $3.59, or 4.3 percent, to $79.40 a barrel.
"Tightening of Chinese monetary policy is weighing on crude oil and the entire commodity space," Jason Schenker, the president of Prestige Economics LLC, an Austin, Texas-based energy consultant, was quoted on Bloomberg. "Increased lending rates and deposit requirements will reduce available liquidity in the market and could engender slower growth, adversely affecting demand."
The national average for regular unleaded gasoline declined three-tenths of a cent to $2.829 a gallon, according to AAA fuel data. The price is 1.8 cents more than last week, 9.8 cents higher than a month back, and 26.5 cents above the price from a year ago.
U.S. Stocks
U.S. stocks declined sharply Tuesday, with the Chinese interest rate news a factor mentioned prominently by analysts.
"The Chinese are basically telling the rest of the world that they're going to slow down their economy," Mark McCormick, currency strategist for Brown Brothers Harriman, said and was quoted on CNNMoney.com. "It's kind of nerve wracking for the global economy, because China has been the key driver of world growth. This was clearly a major surprise."
The Dow Jones industrial average lost 165.07 points to 10,978.62. The S&P 500 Index retreated 18.81 points to 1,165.90. The Nasdaq Composite Index ended down 43.71 points to 2,436.95.