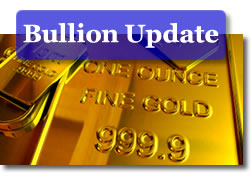 U.S. gold prices surged to a new all-time record of above $1,370 an ounce on Wednesday, driven higher by a weaker dollar which was pressured by "fresh" speculation that the Federal Reserve will ease its monetary policy in November.
Other precious metals moved with gold for a second day. Silver soared the most, rallying 3.4 percent and to a new 30-year high that was just a few cents shy of $24 an ounce.
U.S. stocks advanced as well. The Dow added 0.69 percent, the S&P 500 rose 0.71 percent, and the Nasdaq climbed 0.96 percent.
New York precious metals closing prices follow:
Gold futures for December delivery rallied $23.80, or 1.8 percent, to $1,370.50 an ounce on the Comex in New York. It ranged from $1,350.00 to $1,375.70.

December silver soared 78.5 cents to close at $23.932 an ounce. It ranged between $23.275 and $23.975.

Platinum for January delivery rose $24.10, or 1.4 percent, to close at $1,707.40 an ounce. It ranged from $1,687.20 to $1,715.20.

Palladium for December delivery added $13.00, or 2.2 percent, to $593.65 an ounce. It ranged between $585.85 and $596.00.
In notable bullion quotes of the day:
"We're seeing a consistent weakening in the dollar as we go into the elections; currency intervention as nations want to keep their currencies cheap to prop up exports; strength in equities causing U.S.-based assets to become attractive for foreign investors; future inflation likely to result from quantitative easing — so gold is wearing more than one hat," Adam Klopfenstein, senior market strategist at Lind-Waldock, said and was cited on MarketWatch. Klopfenstein added that "the higher we go there's more potential for a correction so investors need to make sure they manage their risk."

Deutsche Bank analyst Adam Sieminski agrees, saying in a report relayed by Bloomberg."Investors need to be wary of a short-term correction in the U.S. dollar during October, and with it, a possible setback to recent price advances." But added "we view any correction in gold prices over the next three weeks as yet another buying opportunity. The next hazard for bullish gold investors will be the first four weeks of next year, which has seen the dollar strengthen nine out of the last 12 years."
In PM London bullion prices, the benchmark gold Fix was $1,365.50 an ounce, up $17.00 from Tuesday. Silver was $23.530 an ounce, gaining 50 cents. Platinum added $10.50 to $1,696.00 an ounce. Palladium was $587.00 an ounce, rising $2.00.
In coin news Wednesday, authorized dealers ordered only one-ounce bullion coins from the United States Mint. Gold Eagles jumped 11,000 versus the prior day's 5,000. Silver Eagles advanced 125,000 compared to 475,000.
The following are the current October sales from the United States Mint.
U.S. Mint 2010 Bullion Coin Sales
October
2010 Totals
American Eagle Gold Coin (1 oz)
49,000
936,500
American Eagle Gold Coin (1/2 oz)
3,000
39,000
American Eagle Gold Coin (1/4 oz)
0
54,000
American Eagle Gold Coin (1/10 oz)
15,000
370,000
American Buffalo Gold Coin (1 oz)
Sold Out
209,000
American Eagle Silver (1 oz)
1,350,000
26,830,500
Oil and gasoline prices
New York oil prices surged Wednesday. Crude for November delivery advanced $1.34, or 1.8 percent, to $83.01 a barrel. Cited factors included a weaker dollar, the International Energy Agency's improved forecast for world oil demand, and higher Chinese crude imports.
"It was a combination overnight of the Chinese imports, the IEA forecast and a selloff in the dollar which conspired to create a perfect storm for the bulls today," Stephen Schork, president of consultant Schork Group Inc. in Villanova, Pennsylvania, said and was quoted on Bloomberg.
The national average for regular unleaded gasoline advanced nine-tenths of a cent to $2.820 a gallon, according to AAA fuel data. The price is 6.9 cents more than last week, 11.1 cents higher than a month back, and 32.4 cents above the price from a year ago.
U.S. Stocks
U.S. stocks rebounded from earlier losses. The Fed's FOMC minutes were commonly cited as a catalyst, with the aforementioned higher expectations for easing in the air.
"Earnings so far have been strong, and that's definitely a positive," Abigail Doolittle, a portfolio manager at Johnson Illington Advisors, was quoted as saying on CNNMoney.com. "But everything is taking a backseat to this incredible focus on QE2 (quantitative easing, round 2 by the Fed)."
The Dow Jones industrial average rose 75.68 points to 11,096.08. The S&P 500 climbed 8.33 points to 1,178.10. The Nasdaq Composite increased 23.31 points to 2,441.23.