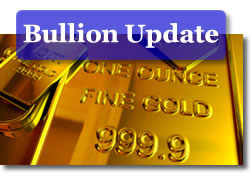 U.S. gold prices declined 2.5 percent Monday, snapping a two-session winning streak. Among factors analysts cited for losses included profit-taking, a stronger U.S. dollar and selling to meet margin calls.
"We had a similar situation in 2008, when stock markets dropped and pulled gold lower, as some hedge funds had to compensate loses by liquidating gold positions," Reuters quoted said Peter Fertig, a consultant at Quantitative Commodity Research. "Depending on whether the situation in stock markets calms down, this could go on for another couple of days," he said.
Gold prices declined $46.20 to close at $1,813.30 an ounce in the December futures contract on the Comex in New York. Gold traded between $1,811.10 and $1,865.20.
"The margin clerks will be sharpening their knives today and will take dead aim even upon gold if that is where they think they can find liquidity," Dennis Gartman, an economist and the editor of the Suffolk, Virginia-based Gartman Letter, said in his daily report that was recounted on Bloomberg. Some investors "will argue that gold will prove valuable and will hold its value even as stock prices plunge, and in the long run they may well be right."
Silver prices for December delivery fell $1.407, or 3.4 percent, to settle at $40.217 an ounce. Prices ranged from $40.100 to $41.600. Jim Wyckoff of Kitco Metals Inc. wrote the following of the metal in the Monday Kitco Roundup:
"December silver futures prices closed nearer the session low Monday and hit a fresh three-week low. Prices also dipped below $40.00 in afternoon trading. Silver prices were also pressured by a stronger U.S. dollar today.

The silver bulls still have the overall near-term technical advantage, but did fade Monday and need to show fresh power soon. Prices are still in a choppy, nine-week-old uptrend on the daily bar chart. Bulls' next upside price objective is producing a close above strong technical resistance at the September high of $43.50 an ounce.

The next downside price breakout objective for the bears is closing prices below solid technical support at $40.00. First resistance is seen at $40.50 and then at $41.00. Next support is seen at $40.00 and then at $39.50. Wyckoff's Market Rating: 6.0."
Platinum prices for October delivery declined $28.50, or 1.6 percent, to close at $1,809.40 an ounce. Platinum traded between $1,800.00 and $1,843.30.
Palladium prices for December delivery fell $27.25, or 3.7 percent, to settle at $711.35 an ounce. Prices hit an intraday low of $701.20 and a high of $739.05.
London Precious Metals
Precious metals declined in London for a second consecutive day. In London Fix price differences between Monday (PM) and Friday (PM):
Gold prices declined $17.50 to $1,834.00 an ounce,
Silver fell 59.0 cents at $40.81 an ounce,
Platinum declined $32.00 to $1,810.00 an ounce, and
Palladium fell $25.00 at $723.00 an ounce.
U.S. Mint Bullion Coin Sales
American Silver Eagle bullion coins advanced 50,000 Monday, according to published U.S. Mint sales figures. No other bullion coin gains were reported. The latest daily, September and year-to-date bullion coin sales figures follow:
Sales of US Mint American Eagle and Buffalo Bullion Coins
Daily
Gains
September
Gains
YTD
2011
Gold Eagle Coin (1 oz.)
0
17,500
690,000
Gold Eagle Coin (1/2 oz.)
0
0
61,000
Gold Eagle Coin (1/4 oz.)
0
0
70,000
Gold Eagle Coin (1/10 oz.)
0
5,000
325,000
Gold Buffalo Coin (1 oz.)
0
4,000
123,500
Silver Eagles (1 oz.)
50,000
701K
29.652M
Sales of America the Beautiful 5 Oz. Silver Bullion Coins*
YTD
2011
Gettysburg National Military Park 5 oz.
126,700
Glacier National Park 5 oz.
126,700
Olympic National Park 5 oz.
81,200
Vicksburg National Military Park 5 oz.
28,800
Chickasaw Park 5 oz.
17,500
TOTAL
381,200
*The Gettysburg and Glacier America the Beautiful Five Ounce Silver Bullion Coins are sold out. Unlike other investment-grade products, the United States Mint does not provide daily per coin sales totals for the Olympic, Vicksburg, and Chickasaw America the Beautiful Five Ounce Silver Bullion Coins. The individual totals are as of Friday, September 2, while the combined total is as of Monday, September 12.