DALLAS, TX — The recently discovered Bullock specimen of the 1856-O double eagle, XF45+, NGC, was the unabashed star of the Sept. 23-26 Heritage Auctions September Long Beach, CA Signature® U.S. Coin Auction, as it soared to $345,000 amidst spirited bidding.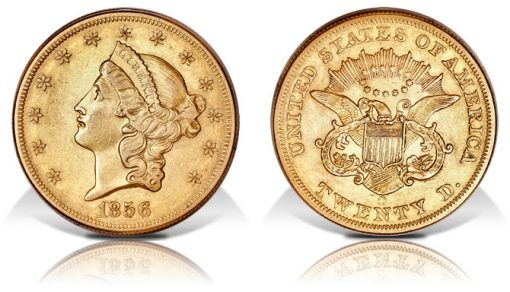 The auction realized an impressive $13.4 million total, with almost 5,000 bidders vying for the 7,385 lots, translating into a 93% sell-through rate by value and 96% by total number of lots.
Overall the auction affirmed the continued strength of gold in an up-and-down global market — with spot gold prices reaching $1,300 and on Friday, Sept. 24 — with fully seven of the top 10 lots coming in the form of the precious metal.
"We were all quite impressed overall with how these coins performed," said Greg Rohan, President of Heritage Auctions. "Collectors continue to respond enthusiastically to the best and rarest examples, as evidenced by the heated competition for the Bullock 1856-O double eagle. We don't expect to see a drop-off in gold demand as the year comes to a close and we hold our last few auctions of 2010."
The 1856-O $20 XF45+ NGC, Ex: Bullock, one of perhaps 20 or fewer commercially available examples, made front-page news in the July 26, 2010 Coin World, with a headline proclaiming "1856-O gold double eagle surfaces in Ohio." The coin was part of a "small accumulation of gold coins held by a family in Ohio for nearly 100 years," and is now further distinguished by its $345,000 and its spot at the top of the roster in the Long Beach Auction.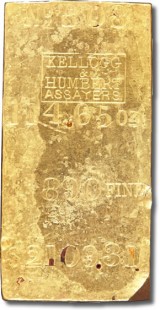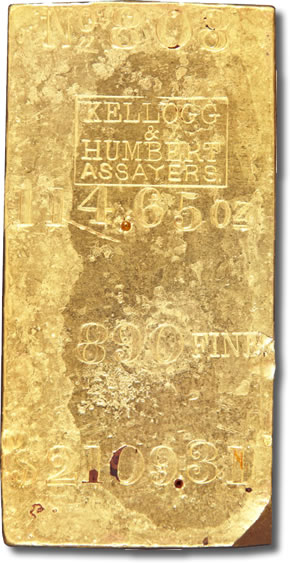 Always popular when they come to auction, Kellogg & Humbert S.S. Central America gold ingots continued to capture collector imaginations, and superb final prices realized, at Long Beach.
A when an astounding 114.65 ounce (9 pounds) "Very Large Size" Kellogg & Humbert Gold Assayer's Ingot, 114.65 Ounces, brought $253,000 from an advanced collector.
A 23.35 Ounce Kellogg & Humbert S.S. Central America Gold Ingot, considered "small to medium-sized," captured great attention at a final price of $80,500.
Nineteenth century gold continued its dominance at the top of the auction, with the single finest 1891 Carson City $10 MS65 NGC bringing $74,750.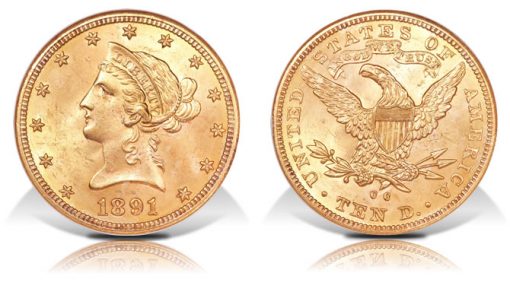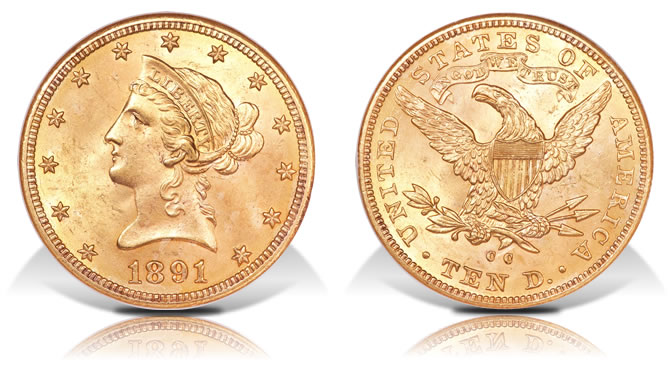 The same final price was realized by a spectacular 1848 $2-1/2 CAL. MS61 NGC, a sublime quarter eagle gold coin made from some of the earliest gold mined during the California Gold Rush.
Further highlights include, but are not limited to:
1796 50C 16 Stars VF25 PCGS. O-102, High R.5.: Realized $69,000.
1895 $1 PR64 Deep Cameo PCGS:Realized $60,375.
1876 $3 PR64 Cameo NGC: Realized $54,625.
1886 $20 XF45 NGC: Realized $54,625.
1874-CC 10C Arrows AU50 PCGS. CAC: Realized $50,313.
About Heritage Auctions
Heritage Auctions, headed by Steve Ivy, Jim Halperin and Greg Rohan, is the world's third largest auction house, with annual sales more than $600 million, and 500,000+ registered online bidder members. For more information about Heritage Auctions, and to join and gain access to a complete record of prices realized, along with full-color, enlargeable photos of each lot, please visit HA.com.