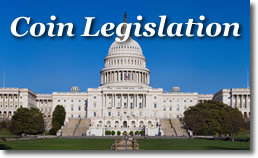 Congressional members have been voting on a series of bills as they prepare to leave Washington and return to their home districts to focus full time on their re-elections.
One of the bills would authorize American Palladium Eagles. The other would authorize Proof American Eagles, giving them equal weight to bullion coins. Both were introduced in the U.S. House of Representatives on September 22, 2010. Each were voted on exactly one week later — supersonic speed for coin legislation. They passed on Wednesday, September 29, 2010, and now await action in the U.S. Senate.
The Coin Modernization, Oversight, and Continuity Act of 2010, or H.R. 6162 for short, was proposed by Congressman Mel Watt (D-NC) who chairs a house subcommittee that recently held hearings on The State of U.S. Coins and Currency. Topics discussed included:
Changing the composition of U.S. coinage to cut their production costs
Producing collector Gold Eagles and Silver Eagles — the proofs and uncirculated coins, even when demand for the bullion versions is unprecedented
Creating bullion American Palladium Eagles to, in part, reduce the supply strain on the Silver Eagle
The first two topics, plus design changes for America the Beautiful Silver Bullion Coins, were wrapped into H.R. 6162. It passed in the House without objection. If the bill passes in the Senate and gets signed by the President, collectors will see the 2010 Proof Silver Eagle. Last year's proofs were canceled for the first time since the series launched in 1986 as coin blanks were dedicated to the bullion versions. For further background on the legislation, read the article: US Mint to Issue 2010 Proof Eagles in HR 6162.
The American Eagle Palladium Bullion Coin Act of 2010, numbered H.R. 6166, was proposed by Rep. Denny Rehberg (R-MT). It passed in the House by Unanimous Consent. If the act becomes law, it would authorize one-ounce .9995 fine palladium coins in bullion, proof and uncirculated.
Their obverse or heads side would feature Adolph A. Weinman's Winged Liberty design that was on silver Mercury dimes which circulated between 1916-1945. The reverse or tails side would bear the reverse design of the 1907 American Institute of Architects Medal which Weinman also created. Both sides would be struck in high-relief. The Palladium Eagles would have a face value of $25.
An additional provision in the bill calls for the proof and uncirculated versions to receive differing surface treatments, making each year's issue unique. For more on the legislation, read the article: American Eagle Palladium Act Introduced in House.
H.R. 6166 must also passed in the Senate and get signed by the President to become law.