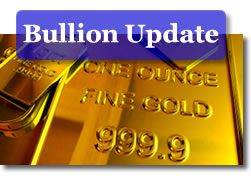 U.S. gold prices closed the day slightly lower, but then rallied to a fresh high in electronic trading after the Federal Reserve voiced concern over low inflation, saying it was:
"Prepared to provide additional accommodation if needed to support the economic recovery and to return inflation, over time, to levels consistent with its mandate."
While U.S. gold closed down $6.50, it was last up $16.30 to $1290.60 an ounce. Other precious metals rallied later as well, after finishing lower. Silver rose 37 cents to $21.01, platinum advanced $10.60 to $1623.00 and palladium added $4.00 to $534.05.
As precious metals climbed following the disappointing Fed news, oil and stocks fell. U.S. stocks finished mixed, with narrow changed as the major indexed ranged from -0.28 to 0.07 percent.
New York precious metals closing prices follow:
Gold for December delivery retreated or 0.5 percent to close at $1,274.30 an ounce on the Comex in New York. It ranged from $1,272.00 to $1,292.40.

December silver lost 16.3 cents, or 0.8 percent, to $20.640 an ounce. It ranged between $20.515 and $21.110.

Platinum for October delivery declined $19.60, or 1.2 percent, to finish at $1,612.40 an ounce. It ranged from $1,610.30 to $1,632.00.

Palladium for December delivery fell $11.80, or 2.2 percent, to $530.05 an ounce. It ranged between $526.65 and $540.50.
In notable bullion quotes of the day:
"I think the gold bulls really got what they wanted from this Fed policy statement," Bill O'Neill, partner at LOGIC Advisors in Upper Saddle River, New Jersey, said on Reuters. "Even though there's no fear of inflation, they actually showed a fear for deflation, which is also bullish for gold as it creates uncertainties. It looks like we are onward and upward to $1,300.
"It's not at all surprising to see these little dips here and there," Matt Zeman, a trader at LaSalle Group in Chicago, said and was quoted on MarketWatch. "It's nervousness and anticipation of a sizeable correction down the pipe."
"Indian gold shoppers remained sidelined for yet another day, as near record price tags offered nothing in the way of incentives to lure them out to local dealers during the present festival period. ," noted Jon Nadler, senior analyst at Kitco Metals, Inc.
In PM London bullion, the benchmark gold Fix price was $1,275.00 an ounce for a loss of $4.25 from Monday's price. Silver retreated 15 cents to $20.760 an ounce. Platinum settled at $1,615.00 an ounce for a loss of $1.00. Palladium was down $6.00 to $530.00 an ounce.
In United States Mint bullion coins, the only coin to advance from Monday was the one-ounce Gold Eagle, jumping 10,000 to 50,500 for September. They have already passed the entire August sales total of 39,000, but remain well below July's level of 147,500. The latest bullion coin figures as reported by the United States Mint follow:
U.S. Mint 2010 Bullion Coin Sales
September
2010 Totals
American Eagle Gold 1 oz
50,500
855,500
American Eagle Gold 1/2 oz
1,000
35,000
American Eagle Gold 1/4 oz
2,000
50,000
American Eagle Gold 1/10 oz
15,000
340,000
American Buffalo Gold 1 oz
7,000
206,000
American Eagle Silver 1 oz
1,045,000
24,645,500
The U.S. Mint does not offer bullion coins directly to the public, but instead sells them to its network of authorized dealers. These dealers and other sellers of silver, gold and other precious metals coins could see new regulations should the Coin and Precious Metal Disclosure Act become law. Congressman Anthony Weiner (D-N.Y.) introduced the legislation in the U.S. House on September 16, which was reported on CoinNews.net today.
Oil and gasoline prices
New York crude oil prices declined Tuesday, falling $1.22, or 1.6 percent, to $74.97 a barrel.
"We're seeing some reluctance from the refinery sector to buy crude, given high product stocks," Michael Lynch, president of Strategic Energy & Economic Research in Winchester, Massachusetts, said and was quoted on Bloomberg. "We're still waiting to get some news which suggests we're getting a recovery."
The national average for regular unleaded gasoline fell a half penny to $2.721 a gallon, according to AAA fuel data. The price is four-tenths of a cent higher than a week ago, eight-tenths of a cent more than a month back, and 17.0 cents higher than the price from a year ago.
U.S. Stocks
U.S. stocks were mixed on Monday. They initially rose after the Fed's statement was released, but then gave back gains.
"The market liked the fact that the Fed said it will take whatever measures are necessary to keep the economy from slipping further," Tom Schrader, managing director at Stifel Nicolaus, said and was quoted on CNNMoney.com. "Investors viewed that as sign that the Fed may implement further quantitative easing measures in the future if they need to."
The Dow Jones industrial average climbed 7.41 points, or 0.07 percent, to 10,761.03. The S&P's 500 Index lost 2.93 points, or 0.26 percent, to 1,139.78. The Nasdaq Composite Index fell 6.48 points, or 0.28 percent, to 2,349.35.