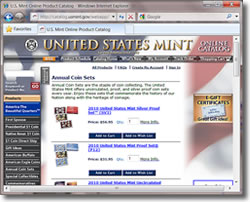 The United States Mint on Monday said that in 2011 it will release annual products much earlier than in past years, with core mint and proof sets available in January 2011.
Specifically mentioned in the US Mint's news announcement were the 2011 Proof Set, the 2011 Silver Proof Set and the uncirculated 2011 Mint Set. Their early January launch will mark the first time in at least a decade that major products will be available so early into a year.
The front-loaded released schedule is a part of the Mint's long term plan first discussed by U.S. Mint Director Ed Moy in 2008 when it significantly trimmed its portfolio to focus resources on core offerings.
"With fewer products to manufacture, the United States Mint will be able to offer proof sets and other products earlier in the calendar year… making them available for customers to purchase for more occasions," the Mint said in November 2008.

"We've listened to our customers and their desire to have these annual sets earlier in the year," Director Moy added on Monday, "Making our annual core products available at one time, and early in the year, provides our customers the opportunity to purchase them for their collections and for gift-giving throughout the year. It's also a demonstration of our commitment to them."
The plan in 2008 was to offer annual sets earlier, beginning in 2010. However, the America the Beautiful Quarters series which debuted this year threw new kinks into the works as the Mint had to prepare a program that honored 56 different national parks and other national sites throughout the U.S. and its territories. That took time and, as a result, two of the major annual 2010 sets actually launched later into the calendar year as compared to the corresponding 2009 sets. The following table illustrates:
Product
Issue Date
2009 Proof Set
May 25
2010 Proof Set
July 22
2009 Mint Set
October 1
2010 Mint Set
July 15
2009 Silver Proof Set
July 17
2010 Silver Proof Set
August 26
Now that the new quarter series is moving, the product release plans developed in 2008 are now feasible.
The Mint has not yet announced whether it will stop selling the older sets when the newer products are released. It often does, but there are no hard and fast rules in place. This year the Mint has also stopped selling products long before their replacements were issued, like all the 2009 sets containing the four bicentennial Lincoln pennies which went off sale June 15. The Mint has also continued selling (and still is) 2009-dated sets after the 2010 versions were released, with the 2009 quarters silver and clad proof sets as an example.
The Mint expects to provide the first three months of 2011 product issues in an updated schedule later this fall.