Pennsylvania numismatist Dale Kershner guess of $103,500 was exactly right as to what the price realized would be for an incredibly rare Fr. 2221-B $5,000 1934 Federal Reserve Note, PCGS Very Choice New 64PPQ auctioned as part of Heritage's official auctions of the 2010 Boston ANA World's Fair of Money™.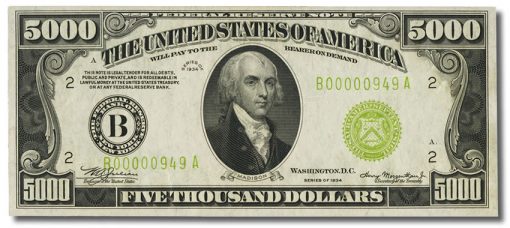 "For his serious powers of prognostication," said David Mayfield, Vice President of Auctions at Heritage, "Mr. Kershner won a $1000 auction credit as the Grand Prize of a contest held by Heritage in conjunction with our Boston ANA events.
There can be no question that hosting the Official Auction of the 2010 Boston World's Fair of Money™ was serious business for Heritage — with prices realized of $46 million, how could it not be? — but Heritage is also serious about adding in an element of fun, mixed with numismatic skill and luck, to reward the collectors who come to the auctions.
ANA members with registered emails were contacted with the following challenge: Each of Heritage's Official Boston ANA Auction catalogs contained lots that, due to their extreme rarity and quality, defied estimates of value.
"Even with facts for more than two million lots in our Auction Archives at HA.com," said Mayfield, "skill, art and luck all needed to come together to win."
Heritage specialists picked one lot from each of three ANA auctions.
The amazing 1916-D Mercury Dime, MS67 Full Bands PCGS, CAC, from the Joshua II Collection (the #1 All-Time Finest PCGS Registry Set) from the U.S. Coins catalog;
Kershner, as stated above, guessed precisely the $103,500 price that would be realized for the $5,000 FRN. As amazing as Kershner's perceptiveness might be, it is interesting to note that there were 11 other guesses plus or minus of $5,000 of the actual selling price of the note.
Currency is actually not even Kershner's primary collecting area, so he laughingly attributed his victory to "careful consideration, measured reflection and luck."
"While Heritage didn't announce a second or third prize, we decided to give $200 auction credits to the next two nearest guesses," said Mayfield. "They were so close it was uncanny."
Steven Presmyk guessed $155,000 on the South African discovery sixpence, against a price realized of $155,250. There were only three other guesses within $5,000 of the actual price. Mr. Presmyk attributed his auction success — and this guess — to Heritage's Auction Archives.
Scott Martin guessed $195,750 on the 1916-D Mercury Dime against a price realized of $195,500. He was one of 12 entries within $5,000, plus or minus, of the actual price. Scott actually runs the largest general auction house in Iowa, but said this is the first 1916-D Mercury Dime in MS67 FB that has ever come into his possession.
In addition to these winners, all of the numismatists who participated each won the choice of a free electronic download or printed copy of Heritage's award-winning book, The Collectors Handbook.
About Heritage Auctions
Heritage Auctions, headed by Steve Ivy, Jim Halperin and Greg Rohan, is the world's third largest auction house, with annual sales more than $600 million, and 500,000+ registered online bidder members. For more information about Heritage Auctions, and to join and gain access to a complete record of prices realized, along with full-color, enlargeable photos of each lot, please visit HA.com.