Professional Coin Grading Service in January will exhibit exceptionally rare large cents and offer a chance to win a highly desired coin.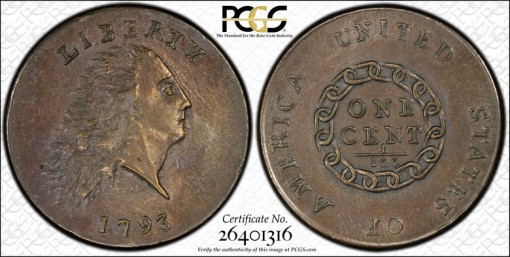 Superb-quality large cents from the High Desert Collection may be viewed at the 58th Annual FUN convention, held January 10-13, 2013 in Orlando, Florida. During the same time, visitors to PCGS booth #100 can pit their grading talents against others in the PCGS Photograde™ Online Grading Contest for a chance to win a gold coin or silver dollar.
PCGS Photograde™ Online Grading Contest at FUN
The competition tests participant's skills in grading coins struck by the U.S. Mint. The adult who best grades 20 coins in 20 minutes will receive a Saint-Gaudens Double Eagle gold coin. Younger participants will need to grade 10 coins with top contestants each winning a MS65 Morgan silver dollar.
Visitors to the FUN convention may ask any Professional Coin Grading Service representative about the PCGS Photograde™ Online Grading Contest and to obtain a free entry form.
Large Cent Exhibit at FUN
Shown for the first time anywhere by PCGS, the High Desert Collection display at the FUN convention will include more than 130 superb-quality large cents with three dozen of them listed in the PCGS Population Report as the finest-known or tied for the finest-known. One of the coins is worth more than a million dollars.
"The 1793 Liberty Cap variety graded PCGS Secure Plus MS64+ BN is valued at nearly $1.5 million," said Don Wills, President of Professional Coin Grading Service.
The owner of the collection has been building it for years with the assistance of Scott A. Travers, a New York dealer and award-winning numismatic author. All of the coins in the FUN display were only just added to the PCGS Set Registry™. Their quality, notes PCGS, immediately ranked them as the second finest current collection in the category, Large Cents Basic Set, Circulation Strikes (1793-1857).
"The set is 100 percent complete and has a weighted grade point average of 61.645," according to BJ Searls, PCGS Set Registry Program Manager.
The owner ranks his top ten favorite large cents in his collection as:
1793 Chain AMERICA, PCGS Secure Plus MS63 BN
1793 Liberty Cap, PCGS Secure Plus MS64+ BN
1794 Starred Reverse, PCGS Secure Plus XF45 BN
1795 Lettered Edge, PCGS Secure Plus MS65 BN
1797 Reverse of 1797 With Stems, PCGS Secure Plus MS66 RB
1798 Second Hair Style, PCGS Secure Plus MS63 BN
1808 PCGS Secure Plus MS64 RB
1827 PCGS Secure Plus MS65 BN
1839 Silly Head, PCGS Secure Plus MS66+ RD
1855 Knob On Ear, PCGS Secure Plus MS64 RD
Professional Coin Grading Service is a division of Collectors Universe, Inc. (NASDAQ: CLCT). More information about the company is available at www.PCGS.com.