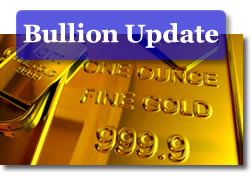 U.S. gold prices rebounded Tuesday, driven higher by safe-haven buying after a report showed existing home sales plunged 27.2 percent in July, marking their lowest level in 15 years. Gold rose $4.90 on the news, breaking a two-day losing streak.
Precious metals were all higher, with prices up 2.1 for silver, 0.6 percent for platinum and 0.1 percent for palladium.
In other markets, crude oil prices fell for a fifth straight day and below $72 a barrel while U.S. stocks closed sharply lower with major indexes dropping between 1.3 and 1.7 percent.
New York precious metals closing prices follow:
Gold for December delivery climbed 0.4 percent to $1,233.40 an ounce. It ranged from $1,211.70 to $1,237.50.

September silver jumped 38.6 cents to end at $18.378 an ounce. It ranged between $17.735 and $18.480.

Platinum for October delivery added $9.10 to finish at $1,517.70 an ounce. It ranged from $1,491.10 to $1,519.90.

September palladium ended up 55 cents to $484.25 an ounce. It ranged between $473.45 and $487.55.
In notable bullion quotes of the day:
"There's an overall crisis in confidence in the U.S. recovery, so investors are adjusting their positions in commodities," Adam Klopfenstein, a senior market strategist at Lind-Waldock in Chicago, said and was quoted on Bloomberg. "The flight-to-quality crowd is jumping on gold."
"Gold demand surged as risk appetite started to fall on the much weaker-than-expected U.S. home sales data. When risk aversion rises, we tend to see very strong flow into gold," Nick Brooks, head of research and investment strategy of London-based ETF Securities, said and was quoted on Reuters.
"Primary demand from the automotive users appears to run into difficulties above $1,500 and $500 respectively, for the two noble metals (platinum and palladium)," noted Jon Nadler, senior analyst at Kitco Metals, Inc. " Spec funds, on the other hand, (not unlike in gold) continue their high-wire act in the niche."
In PM London bullion, the benchmark gold price was fixed to $1,222.00 an ounce, falling 4.00 from the PM price on Monday. Silver fell 6 cents to $17.880 an ounce. Platinum settled at $1,494.00 an ounce, declining $16.00. Palladium lost $4.00 to $476.00 an ounce.
Oil and gasoline prices
Crude oil prices fell to under $72 a barrel for the first time in seven weeks.
"We've had some bad economic signals that show a higher risk of a double-dip recession," Thorbjoern Bak Jensen, an analyst at Global Risk Management in Middelfart, Denmark, said and was quoted on Bloomberg. "The end of the driving season will mean lower demand from refiners. But $69 will likely be the bottom, as I don't see a double-dip occurring."
New York crude oil for October delivery plummeted $1.47, or 2.0 percent, to $71.63 a barrel — the lowest price since June 7.
The national average for regular unleaded gasoline fell six-tenths of a cent to $2.702 a gallon, according to AAA fuel data. The price is 4.0 cents lower than a week ago, 3.5 cents down from a month back, but 7.6 cents higher than the price from a year ago.
U.S. Stocks
U.S. stocks closed "sharply lower Tuesday after a report showing showing a worse-than-expected plunge in existing home sales reignited fears about an economic slowdown," wrote Blake Ellis of CNNMoney.com.
Plunging sales of existing homes "is yet one more piece of disappointing economic news," Michael Holland, who oversees more than $4 billion as chairman of Holland & Co. in New York, said and was quoted on Bloomberg. "Irrespective of whether there's a double dip, jobs aren't being created. Without jobs they're not going to get better numbers on housing."
The Dow Jones industrial fell 133.96 points, or 1.32 percent, to 10,040.45. The S&P 500 Index declined 15.49 points, or 1.45 percent, to 1,051.87. The Nasdaq Composite Index retreated 35.87 points, or 1.66 percent, to 2,123.76.