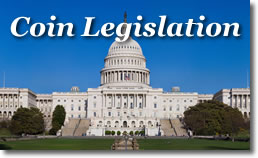 Commemorative silver dollars and $5 gold coins honoring the bicentennial writing of the Star Spangled Banner will be minted in 2012 when President Obama signs the Star Spangled Banner Commemorative Coin Act into law.
The legislation, numbered H.R. 2097, calling for the coins passed in the U.S. House of Representatives on September 9, 2009. The U.S. Senate voted and gave their go-ahead green light on Monday, August 2, 2010.
Francis Scott Key wrote the Star Spangled banner after a 25-hour British bombardment of Fort McHenry, in Baltimore, Maryland, during the War of 1812. On March 3, 1931, President Herbert Hoover signed a resolution of Congress that officially designated the Star-Spangled Banner as the National Anthem of the United States.
Congressman C.A. Dutch Ruppersberger of Maryland first introduced H.R. 2097 on April 23, 2009.
"It is a great honor for Baltimore to have a special Star-Spangled Banner commemorative coin minted to draw attention to the important role Marylanders played as our young nation fought for survival," said Rep. Ruppersberger after the bill passed in the Senate.
Senator Bejamin L. Cardin of Maryland proposed a companion version of the legislation, numbered S. 653, on March 19, 2009. He was equally thrilled when the Star Spangled Banner Commemorative Coin Act was approved.
"The War of 1812 is often referred to as the Second War of Independence and deserves broad, national recognition," said Sen. Cardin. "As Marylanders, we are all proud of the role our state has played in our nation's history and the creation of these commemorative coins will make it possible for us to bring greater attention to this bicentennial celebration."
For any bill to become law, it must pass in the House, Senate and get signed by the President. President Obama is expected to sign the legislation into law within a week.
Commemorative Coin Specifications and Design
H.R. 2097 calls for a maximum mintage of 100,000 commemorative $5 gold coins that weigh 8.359 grams and have a diameter of 0.850 inches. The specifications dictate a composition of 90 percent gold and 10 percent alloy.
A maximum of 500,000 commemorative silver dollars would be struck from 90 percent silver and 10 percent copper, with each having a weight of 26.73 grams and a diameter of 1.500 inches.
As is typical with most coin bills, design details are limited and left up to the process established by the United States Mint. In general terms, H.R. 2097 dictates that the coins:
"Shall be emblematic of the War of 1812 and particularly the Battle for Baltimore that formed the basis for the Star-Spangled Banner."
The legislation also mandates the inscriptions of '2012', 'Liberty', 'In God We Trust', 'United States of America', and 'E Pluribus Unum'.
Surcharges of $35 per gold coin and $10 per silver dollar will be paid to Maryland War of 1812 Bicentennial Commission to support bicentennial activities, educational outreach, and "preservation and improvement activities pertaining to the sites and structures relating to the War of 1812."
By law, two commemorative coins are authorized each year. For 2012, the Star Spangled Banner Commemorative Coin Act joins the National Infantry Museum and Soldier Center Commemorative Coin Act. The latter was signed into law on October 8, 2008, and authorizes up to 350,000 silver dollars to honor the United States Infantry.
For more information on the Star Spangled Banner act, read H.R. 2097, or the House passage of it.