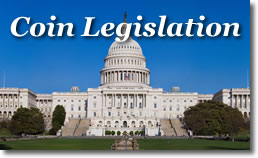 Commemorative coins honoring the bicentennial writing of the Star-Spangled Banner are one step closer to becoming a reality. The U.S. House of Representatives on Wednesday passed its versions of the Star-Spangled Banner Commemorative Coin Act (H.R. 2097) by a roll call vote of 419 to 1, with 13 members absent.
H.R. 2097, like the Senate companion bill S. 653, would authorize the US Mint to strike up to 100,000 $5 gold coins and a maximum of 500,000 silver dollars that are "emblematic of the War of 1812 and particularly the Battle for Baltimore that formed the basis for the Star-Spangled Banner." The coins would be minted in 2012.
Surcharges of $35 for each gold coin sale and $10 for each silver coin sale would be paid to the Maryland War of 1812 Bicentennial Commission for the purpose of supporting bicentennial activities.
Francis Scott Key wrote the poem "The Star-Spangled Banner" when he saw the American flag flying above Fort McHenry in Baltimore, Maryland after a 25-hour British bombardment in 1814. The Star-Spangled Banner was set to music and became the U.S. national anthem in 1931.
If history is any indicator, a stumbling block for the coins could be in the U.S. Senate. Last year a similar bill passed in the House as well but died at the conclusion of the 110th Congress as a result of Senate inaction.
Rep. Dutch Ruppersberger [D-MD] sponsored H.R. 2097 on April 23. It eventually garnered 296 cosponsors. The Senate version was introduced days earlier on April 19 by Maryland Senators Benjamin Cardin and Barbara Mikulski. That bill is currently before the Committee on Banking, Housing, and Urban Affairs.
For the legislation to become law, a version of either bill must eventually pass in both houses and receive President Obama's signature.
H.R. 2097 is the first coin legislation to pass in the House this year. The slower Senate has yet to pass a bill authorizing new coins.