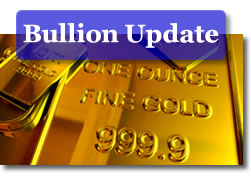 U.S. gold prices edged $2.10 higher on Tuesday, marking a fifth straight day of gains and the longest rally since April 7. Cited reasons included improved physical demand, a weaker dollar and news that China plans to make it easier to trade the yellow metal.
Silver remained little changed while platinum declined 0.9 percent and palladium tumbled 1.8 percent.
In other markets, crude oil jumped to a 3-month high and above $82 a barrel while U.S. stocks retreated with the major indexes dropping between 0.3 and 0.6 percent.
New York precious metals prices follow:
Gold for December delivery rose 0.2 percent, to $1,187.50 an ounce. It ranged from $1,181.60 to $1,193.00.

Silver for September delivery advanced three-tenths of a cent to close at $18.422 an ounce. It ranged between $18.315 and $18.610.

October platinum fell $15.10 to $1,587.10 an ounce. It ranged from $1,582.50 to $1,607.50.

September palladium lost $9.40 to finish at $506.45 an ounce. It ranged between $499.75 and $517.10.
In notable bullion quotes of the day:
"This could be the beginning of a turnaround in prices and potentially the beginning of another leg up for gold," Scott Meyers, a senior trading analyst with the Pioneer Futures Division of MF Global, was quoted on MarketWatch.
"The news from China is a good sign and shows that they're continuing to look for assets to diversify," Adam Klopfenstein, a senior market strategist at Lind-Waldock in Chicago, was quoted on Bloomberg. "The only thing I'm concerned about is that it's a bit of a shallow rally today. This is more of a long-term story and something that could possibly impact the demand-and-supply equation down the line."

"Indian buyers did make an appearance overnight in the wake of recent declines which brought gold prices to under $1180.00 per ounce," noted Jon Nadler, senior analyst at Kitco Metals, Inc." Indian sensitivity to gold prices remains the defining feature to local demand patterns, but, on occasion, the calendar rules even stronger." [Read Nadler's full morning commentary.]
In PM London bullion, the benchmark gold price was fixed earlier in the North American day to $1,187.50 an ounce, retreating $1.00 from the price on Monday. Silver gained 31 cents to $18.420 an ounce. Platinum settled at $1,590.00 an ounce, advancing $3.00. Palladium rose $13.00 to $514.00 an ounce.
Oil and gasoline prices
Crude oil prices surged "as the dollar remained weaker and traders awaited the first batch of inventories data," wrote Claudia Assis of MarketWatch.
"U.S. inventory data is likely to be supportive as a big decline in U.S. crude oil stocks is on the cards," Carsten Fritsch, commodities analyst at Commerzbank, was quoted on Reuters.
New York crude oil for September delivery advanced $1.21, or 1.5 percent, to $82.55 a barrel.
The national average for regular unleaded gasoline fell nine-tenth of a cent to $2.726 a gallon, according to AAA fuel data. The price is 1.6 cents lower than a week ago, 1.2 cents down from a month back, but 17.7 cents higher than a year ago.
U.S. Stocks
U.S. stocks ended lower, "as Dow component Procter & Gamble Co.'s lackluster results, coupled with weaker-than-estimated data on consumer spending and housing, prompted investors to exercise caution a day after the market's 2 percent rally," wrote Chuck Mikolajczak of Reuters.
"You'd have to paint today's numbers as a whole as disappointing," E. William Stone, who oversees $104 billion as chief investment strategist at PNC Wealth Management in Philadelphia, was quoted on Bloomberg. "Incomes, spending, pending home sales, factory orders — it's on the whole disappointing. We know we're in a soft spot. The Fed wants to continue to show they want to keep their options open and come back into the fray if needed."
The Dow Jones industrial average fell 38.00 points, or 0.36 percent, to 10,636.38. The S&P 500 Index lost 5.40 points, or 0.48 percent, to 1,120.46. The Nasdaq Composite Index declined 11.84 points, or 0.52 percent, to 2,283.52.