DALLAS, TX — The Official Currency Auction of the 2010 ANA World's Fair of Money in Boston, MA will be conducted by Heritage Auctions Aug. 11-16. The auction includes three floor sessions and one online session.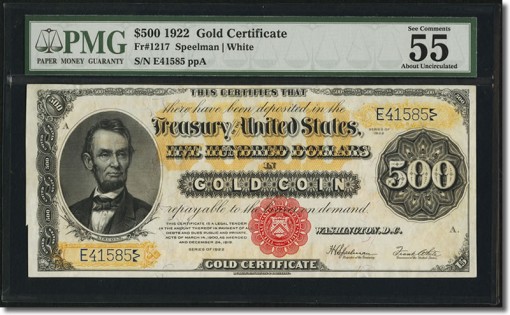 Lot viewing will be conducted at the Hynes Convention Center, Room 210, 900 Boylston St., Boston, MA 02115 and the floor sessions will be held at the Hynes Convention Center, Room 203, 900 Boylston St., Boston, MA 02115.
In addition to lot viewing in Boston, a preliminary lot viewing will take place at Heritage Galleries Beverly Hills, 9478 W. Olympic Blvd., Suite #100, Beverly Hills, CA 90212 on Friday, July 30, 2010 and Saturday, July 31, 2010.
Session One will begin on Wednesday evening, Aug. 11, at 6 p.m. ET and includes Continental Currency, Colonial Currency, Fractional Currency, Encased Postage, Obsolete Currency, Confederate Notes, a Confederate Bond, Miscellaneous, Postal Notes, Military Payment Certificates, World Currency, and Canadian Currency.
Heritage Currency Auctions is presenting The Collection of a Patriotic American, a complete collection of all 102 Friedberg numbers associated with Continental Currency and believed to be the finest collection ever assembled. The collection also includes 71 additional related items, including:
the extremely rare marbled edge counterfeit detector;
eight extra Fugio bills representing the different plate positions;
21 different contemporary counterfeits;
nine sheets of Continental Currency, including a very rare sheet of Fugio bills;
and nine counterfeit detector sheets. Among the 71 items are 23 pieces issued by cities and states payable in Continental Currency: four notes from Albany dated 1776 and 19 typeset certificates from Georgia dated June and September 1777.
Among the many highlights of the collection is the finest known Continental Currency May 10, 1775 $20 PCGS Choice About New 58PPQ. The $20 from this first issue of Continental Currency is the only piece of the 102 different Continental Currency notes that has a different shape, size, paper, and color. Benjamin Franklin procured the distinctive marbled edge paper from his contacts in Paris.
Other exceptional rarities in the collection include: a Continental Currency February 17, 1776 Twenty Four Note Sheet Choice About New, the finest of three known examples;
Arguably one of the most interesting lots within the collection is the Continental Currency September 26, 1778 Two Counterfeit Detector Uncut Sheets of Eight Extremely Fine. The two uncut sheets of eight are pinned together and include a handwritten note that reads, "Taken by the Ship Deane commanded by Capt. Sam'l Nicholson, 1779. From the Ship Glencairn, a box containing a complete set of types, and three reams of paper, with isinglass and silk mixed, for counterfeiting the Continental Currency. The enclosed are two sheets of them, presented me by Rev. Joseph B. Felt." The note is signed in the same hand by Matthew A. Stickney.
Additional Session One highlights include an exceedingly rare Massachusetts 1750 $1/8 PCGS Apparent Very Fine 30, the only example Heritage is aware of. Another scarce item is the Copper Printing Plate New Hampshire June 20, 1775 40s; 20s; 6s; 1s. Because of the similarities of form, layout and style between the New Hampshire issue of July 20, 1775 with the two Massachusetts copperplate issues of May 25 and July 8, 1775, it has long been believed that Paul Revere was responsible for the engraving and printing of both colonies' emissions. However, recent evidence has been discovered that proves the copper plate for the New Hampshire July 20, 1775 issue was actually engraved by John Ward Gilman. The New York November 1, 1709 (Lyon Dollars) 2 Ounces 15 Pennyweights or 4 Lyon Dollars PCGS Choice About New 55PPQ is exceptional as well.
The Obsoletes portion of Session One includes a number of Mormon-related notes, including a Kirtland, OH- Kirtland Safety Society Bank $10 March 8th, 1837 G10 Nyholm 32 Rust 8 bearing the signatures of Joseph Smith, Jr. and Brigham Young. World Currency highlights include a Russian-American Company 25 Kopek ND (1816-1867) Printed on Walrus Skin Parchment Pick UNL.
National Bank Notes will be sold during Session Two, on Thursday, August 12 at 6 p.m. ET. Heritage is pleased to present Part II of The Old Line Collection , an assemblage of Nationals that includes many rarities from numerous states and territories. Part IV of selections from The Lone Star Collection, featuring a great selection of notes from Arkansas, Oklahoma and Texas, is among the offerings. Additionally The Cornhusker Collection contains a number of exciting Nebraska Nationals.
Among the lots being offered is a New to the Census First Charter $50, a Boston, MA – $50 1875 Fr. 444a The State NB Ch. # 1028 PCGS Apparent Very Fine 20.
Other highlights include:
The Roff, IT – $10 1882 Brown Back Fr. 490 The First NB Ch. # (W)5417 PMG Very Fine 25 is a newly discovered note that is the finest of the five examples reported from the bank.
Small Size Notes, Error Notes, and Large Size Notes will be featured during Session Three beginning on Friday, August 13 at 6 p.m. ET. Among the Small Size selections are a number of high denomination notes, including:
Other Small Size offerings include a rare Original Pack of 100 Fr. 1500 $1 1928 Legal Tender Notes Choice Crisp Uncirculated to Gem Crisp Uncirculated and a Fr. 2407 $500 1928 Gold Certificate PMG About Uncirculated 53.
Two error collections, The David Gursky Collection of U.S. Error Notes and The Windy City Star Note Error Collection, are featured during Session Three. The highlight of the Gursky collection is a "King of Errors," a Fr. 2071-K $20/$10 1974 Federal Reserve Note PMG Choice Uncirculated 63. All examples of this double denomination are rare, as the number released was quite small, and uncirculated copies are extremely rare, with the number extant likely fewer than a dozen.
Among the exciting errors from the Windy City offerings is a Fr. 2175-A* $100 1996 Federal Reserve Note PMG About Uncirculated 55 with a blank back. Other outstanding lots include a Fr. 1935-L $2 1976 Federal Reserve Note PCGS Very Choice New 64PPQ with a doubled and mismatched overprint, a note with great eye appeal. A number of obstruction errors are contained in this auction, among them a Fr. 2031-G $10 1995 Federal Reserve Note PCGS Choice New 63.
The final portion of Session Three features Large Size Type Notes. A stunning Fr. 1217 $500 1922 Gold Certificate PMG About Uncirculated 55 EPQ is among the featured items. The spectacular note earned "Exceptional Paper Quality" and "Great Margins & Color" comments from the grading service and is one of the finest known examples.
Another note displaying great color is the Fr. 42 $2 1869 Legal Tender PCGS Gem New 65PPQ, the scarcest issue of the Rainbow series overall.  A Fr. 1192 $50 1882 Gold Certificate PCGS Very Fine 30PPQ tied for third finest known is also being offered.
The Non-Floor Session of The Official Currency Auction of the 2010 Boston ANA World's Fair of Money will be available for viewing in Boston and closes on Heritage Live on Monday, August 16, beginning at 12:00 p.m. CT. Over 1400 lots will be offered during that session.
About Heritage Auctions
Heritage Auctions, headed by Steve Ivy, Jim Halperin and Greg Rohan, is the world's third largest auction house, with annual sales more than $600 million, and 500,000+ registered online bidder members. For more information about Heritage Auctions, and to join and gain access to a complete record of prices realized, along with full-color, enlargeable photos of each lot, please visit HA.com.