The United States Mint 2010 Proof Set went on sale today at noon Eastern Time for $31.95.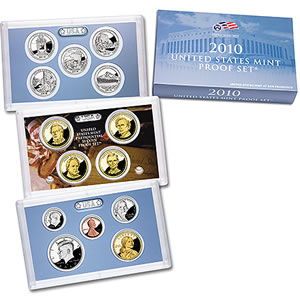 2010 Proof Set includes 14 proof coins
Based on historical trends, more collectors will buy it than any other set this year, including the uncirculated 2010 Mint Set that was released exactly one week ago and opened with four day sales of 200,764.
The 14 coins in the 2010 set are in proof condition, feature the "S" mint mark denoting their production at San Francisco, and are displayed in three protective lenses.
Unlike last year's release that briefly closed down the U.S. Mint's online store when tens of thousands of orders were rushed through in only minutes, this year's launch went off with little to no issues.
The 2010 Proof Set includes the following collection of coins:
2010-S Lincoln Cent – Featuring the "Union Shield" design, the new cent design is expected to remain unchanged for fifty years, if it lasts that long.
2010-S America the Beautiful Quarters – The debuting coins from the Mint's new quarters series program includes the 2010-S Hot Springs National Park Quarter, 2010-S Yellowstone National Park Quarter, 2010-S Yosemite National Park Quarter, 2010-S Grand Canyon National Park Quarter, and the 2010-S Mt. Hood National Forest Quarter.
2010-S Kennedy Half Dollar
2010-S Presidential $1 Coins – In the fourth year of issue, the dollars depict former U.S. Presidents Millard Fillmore, Franklin Pierce, James Buchanan, and Abraham Lincoln.
2010-S Native American Dollar – This new series launched in 2009 and features one differing design per year that celebrates the "important contributions made by Indian tribes and individual Native Americans to the history and development of the United States." This year's issue depicts an image of the Hiawatha Belt with five arrows bound together and the additional inscriptions HAUDENOSAUNEE and GREAT LAW OF PEACE, representing the theme "Government — The Great Tree of Peace."
Proof set mintages over the years attest to their popularity, with mintage levels through 2000-2009 ranging between 1.4 million and 3.1 million, as the following table highlights:
Annual US Mint Proof Set Sales

Issue Price
Included Coins
Mintages
2000 Proof Set
$19.95
10 coins
3,082,572
2001 Proof Set
$19.95
10 coins
2,294,909
2002 Proof Set
$19.95
10 coins
2,319,766
2003 Proof Set
$19.95
10 coins
2,172,684
2004 Proof Set
$22.95
11 coins
1,789,488
2005 Proof Set
$22.95
11 coins
2,275,000
2006 Proof Set
$22.95
10 coins
2,000,428
2007 Proof Set
$26.95
14 coins
1,702,116
2008 Proof Set
$26.95
14 coins
1,405,674
2009 Proof Set
$29.95
18 coins
1,477,967*
2010 Proof Set
$31.95
14 coins
–
* Sale figures from 2009 are the latest available, but unaudited.
As reflected above and as compared to this year's offering, the 2009 Proof Set was priced $2 cheaper and contained four more coins, including the 90 percent copper proofs of the four Bicentennial Lincoln cents. It debuted with seven day sales of 437,178. Also, it launched in late May 2009, which is generally a bit more active time for collectors than weeks in July. As such, it would be surprising to see opening sales for the 2010 Proof Set surpass those of 2009, but they will certainly reach into the hundreds of thousands.
2010 Proof Set Order Information
The set may be purchased directly through the United States Mint page:
Orders may also be placed via the Mint's toll-free number, 1-800-USA-MINT (872-6468). Hearing and speech-impaired customers may order by calling 1-888-321-MINT (6468).
The Mint indicates a shipping and handling charge of $4.95 will be added for all domestic orders.
About the U.S. Mint
The United States Mint, the nation's sole manufacturer of legal tender coinage, was created by Congress in 1792. Its primary mission is to produce an adequate volume of circulating coinage for the nation to conduct its trade and commerce. The United States Mint also produces proof, uncirculated, and commemorative coins; Congressional Gold Medals; and silver, gold and platinum bullion coins.