The United States Mint officially announced the July availability of its two "most popular annual sets." On Thursday, July 15, it will issue the 2010 United States Mint Uncirculated Set®. Exactly one week later, on July 22, it will release the United States Mint Proof Set®.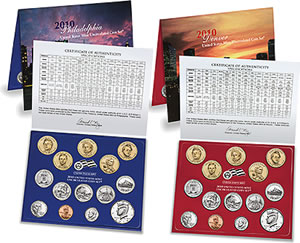 U.S. Mint image of the 2010 Mint Uncirculated Set
Both sets will launch on their corresponding days at noon Eastern Time, and each will be listed for $31.95 — a $2 increase for the Proof Set and a $4 increase for the Mint Set, as compared to their 2009 prices.
Each of the sets include collector versions of all the circulating 2010 coins, which include:
(4) 2010 Presidential $1 Coins (Fillmore, Pierce, Buchanan, and Lincoln)
(1) 2010 Native American $1 Coin
(1) 2010 Kennedy half-dollar
(1) 2010 Roosevelt dime
(1) 2010 Jefferson nickel
(1) 2010 Lincoln cent
Plus, the following 2010 America the Beautiful Quarters:
Hot Springs National Park Quarter (Arkansas)
Yellowstone National Park Quarter (Wyoming)
Yosemite National Park Quarter (California)
Grand Canyon National Park Quarter (Arizona)
Mount Hood National Forest Quarter (Oregon)
The 2010 Proof Set coins (14 in all) are minted in San Francisco with each bearing the denoting "S" mint mark.
"The coins are manufactured using specially prepared, highly polished dies. The coins are extraordinarily brilliant, with sharp relief and a mirror-like background," the Mint describes in a statement. "A frosted, sculpted foreground gives these coins a special cameo effect. The coins are sealed in three protective lenses to showcase and maintain their exceptional finish. A Certificate of Authenticity is included with each set."
The 2010 Mint Set features double the coins (28), as it includes both Philadelphia and Denver uncirculated versions.
"The United States Mint Uncirculated Coin Set includes two folders, each containing 14 coins from the United States Mint facilities at Denver and Philadelphia," describes the Mint. "The coins are struck on special presses using greater force than circulating coins, producing a sharp, intricately detailed image. The satin-finish coins are displayed in a folder that includes a Certificate of Authenticity."
The sets are indeed popular with coin collectors. The latest US Mint sales figures have the 2009 Proof Set sitting at 1,477,967 and the 2009 Mint Set at 774,844. Both are no longer on available.
When available, the sets may be ordered through the Mint's online store at http://www.usmint.gov/catalog, or via their toll-free number 1-800-USA-MINT (872-6468). Hearing and speech-impaired customers may order by calling 1-888-321-MINT (6468). All domestic orders will be assessed a shipping and handling fee of $4.95 per order.