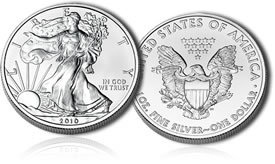 The United States Mint sold more American Silver Eagle bullion coins last month than in any other June since the series launched in 1986. Demand continues to soar during a time of year in which buying historically eases, further jeopardizing the possibility of 2010 proof and uncirculated eagle production.
Mint authorized buyers ordered 3,001,000 Silver Eagles in June, easily surpassing the prior 2,245,000 record set in June 2009.
The pace did retreat significantly from May's 3,636,500 performance when sales fell just 59,500 short of the all-time monthly December 1986 record of 3,696,000. And the summer doldrums are present, noted by the fact that despite the over 3 million sold, June only ranks as the fourth best month in 2010.
But then, that contrasting picture must be placed into the perspective of an astronomical six months where 18,168,500 of the bullion coins were purchased. That level already accounts for 63.1 percent of 2009's annual record of 28,766,500. This year will rank as the best ever for the series if each remaining month averages just 1.78 million. No months in 2010 and only one month in 2009 ever had lower sales, as the following table highlights:
2010 US Mint Silver Eagle Coin Sales
| | | |
| --- | --- | --- |
| Month | 2009 Sales | 2010 Sales |
| January | 1,900,000 | 3,592,500 |
| February | 2,125,000 | 2,050,000 |
| March | 3,132,000 | 3,381,000 |
| April | 2,518,000 | 2,507,500 |
| May | 1,904,500 | 3,636,500 |
| June | 2,245,000 | 3,001,000 |
| July | 2,810,000 | – |
| August | 2,130,000 | – |
| September | 1,703,000 | – |
| October | 2,939,000 | – |
| November | 2,586,500 | – |
| December | 2,773,500 | – |
| Total | 28,766,500 | 18,168,500 |
Further, ending months of a year are typically among the best as eagle demand rises.
Proof and Uncirculated Silver Eagles in Jeopardy
The continuation of record monthly levels does not bode well for the production of collector uncirculated and proof 2010 Silver Eagles. The 2009 collector versions were canceled as a result of silver coin blank shortages during a time when demand was considered "unprecedented." The term has a new meaning this year, with bullion coin demand clearly much higher. The latest US Mint 2010 schedule shows that the proof and uncirculated eagles are in a "To Be Determined" phase, with a Mint statement saying:
"Public Laws 99-61 and 99-185 mandate that the United States Mint mint and issue its American Eagle Silver and Gold Bullion Coins "in quantities sufficient to meet public demand…" There is no corresponding legal requirement to mint and issue the proof and uncirculated coins in quantities sufficient to meet public demand. The bureau, however, is continuing to work with current and potential blank suppliers to increase the supply of silver and gold blanks in amounts that may make it possible to offer the proof and uncirculated versions of American Eagle Silver and Gold Coins in 2010."
Collectors had to wait through most of 2009 to find out the fate of the proof and uncirculated Silver Eagle coins. It would appear the wait to find out the fate of the 2010s could be just as long.
American Eagle bullion coins were authorized by Congress in 1985 to "provide investors with a convenient and cost effective way to add a small amount of physical platinum, gold, or silver to their investment portfolios." These coins do not have the proof or uncirculated finish of the collector versions, nor the "W" mint mark.
The US Mint does not offer bullion American Eagles directly to the public but instead to a small group of authorized purchasers who in turn resell the coins to investors, dealers and collectors.