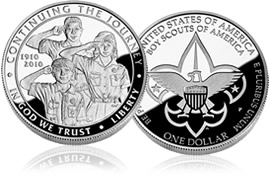 It has been slower going of late for the remaining proof 2010 Boy Scouts Commemorative Silver Dollar.
A sell out of the coin could happen at any time with only 5,039 left, but the pace edged slightly slower with buyers picking up 2,381 more compared to last week's reported 3,437.
The uncirculated version sold out exactly one month ago today. Their numbers continue to be tweaked as returns, cancellations and standby orders are processed.
Weekly numbers were first adjusted downward by 1,375, then by 226 and now 191. Their latest total is 106,897, which leaves 238,082 of the proofs sold.
Combined, 344,961 or 98.6 percent of the authorized 350,000 mintage are gone.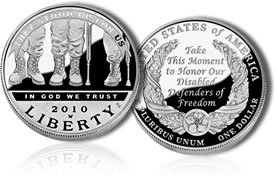 2010 Disabled American Veterans Silver Dollars are moving along as they have been for the last several weeks with sub 2,000 weekly gains.
The DAVs advanced 1,296, with buyers ordering 820 proofs and 476 uncirculated options. Their weekly increase is down from the prior 1,990 pick up.
As a group the silver commemorative has hit 202,481, or 57.9 percent of their maximum mintage. Collectors are favoring the proof over the uncirculated by a more than 2-1 ratio — 140,761 versus 61,720.
While it does not look like they will sell out, it does appear that they may eventually surpass the performance of last year's Louis Braille Bicentennial Silver Dollar Commemorative. The last reported U.S. Mint sales for those came in at a 217,874 across all options.