(Zurich, Switzerland) — The largest number of PCGS-certified coins ever offered in a joint Chaponniere & Hess-Divo auction will be available during their upcoming sale, May 18 and 19, 2010, in Zurich, Switzerland and online at http://sixbid.com/nav.php?p=viewsale&sid=236.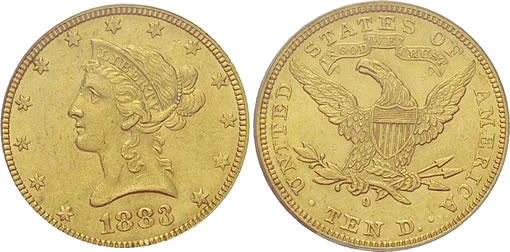 This 1883-O Eagle is one of many PCGS-certified coins offered in a joint Chaponniere & Hess-Divo auction – CLICK TO ENLARGE
Among the 79 PCGS-certified U.S. and world coins in the auction are an 1879-CC Quarter Eagle graded PCGS AU58 and an 1883-O Eagle also PCGS AU58.
"I am happy to have so many PCGS-graded coins for the first time in my auction. The 1883 New Orleans $10 gold is one of the highlights," said dealer Olivier Chaponniere of Geneva.
"The fact that a high-level European auctioneer like Olivier Chaponniere has decided to grade most of his US and world coins with PCGS reflects the growing recognition of the value that PCGS's respected third-party grading brings to European collectors and auction houses," said Muriel Eymery, PCGS Director of International Business Development.
"Most European auctioneers now are including a growing number of certified world coins in their sales because they help attract new clientele, secure online bids and achieve better auction prices. It will not be long until we witness even greater auction price differentials in Europe between 'similarly-graded' certified and raw coins."
Additional information about PCGS international services is now available in English and other languages online at a new web site, www.PCGSglobal.com.