Vintage Russian coins certified by Numismatic Guaranty Corporation® (NGC) did extremely well at the SINCONA sale of Russian coins and medals, held October 21, 2019, in Zurich, Switzerland.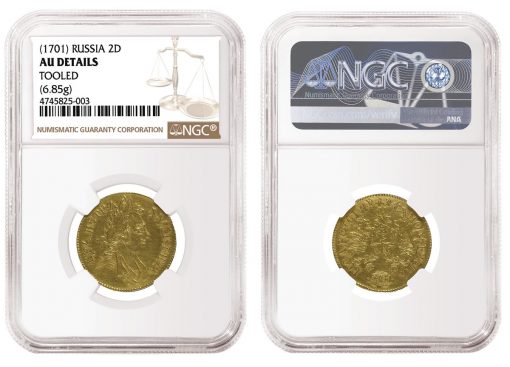 The top five coins in the sale were all NGC-certified and realized more than $1 million combined.
"NGC's expert certification gave our bidders great comfort," says Jürg Richter, President of SINCONA. "As a result, many of the NGC-certified coins in our recent sales achieved exceptional prices."
The most impressive result was achieved by a Russia 1701 2 Ducats graded NGC AU Details that realized 480,000 CHF (about $483,000 USD).
This coin was among the first round coins struck by machinery in Russia as part of Peter the Great's bold monetary reform, which helped to finance the Russian army, create a navy and build infrastructure. These efforts ultimately established the Russian Empire as an important player in European and international politics.
"The 1701 2 Ducats is not only an interesting numismatic artifact, but it is also extremely rare," says NGC Chairman and Grading Finalizer Mark Salzberg. "NGC is honored to have certified this coin and many of the other rarities in SINCONA's October sales."
The following NGC-certified coins also sold for high prices in the Russian Coins and Medals sale:
To date, NGC has certified over 170,000 Russian coins. For more information, about NGC, visit NGCcoin.com.
For more information about SINCONA, visit SINCONA.com.
NGC has certified more than 44 million coins. Founded in 1987, the company provides accurate, consistent and impartial assessments of authenticity and grade. For more information about NGC and its grading services, visit NGCcoin.com.