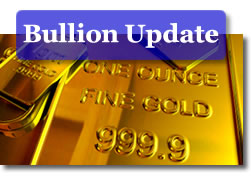 There's Got To Be A Morning After…
Good Morning,
Following one of the scariest market afternoons in recent (and not so recent) memory, global investors tried to get up, dust off, and get on with it as Friday morning dawned across various time zones. Images of the Dow's chart, which resembled a cross-section of the Mariana Trench in the western Pacific, continued to flash across various financial channel screens this morning.
Such images stood as a stark reminder that whether this event was about spreading fear, a hapless market employee, computers gone haywire, or all of the above at once, the results are one and the same; a lot of damage (financial and psychological) was inflicted on Thursday. The reverberations of the incident will continue to plague the psyche no matter how promising any Friday recovery may eventually turn out to be.
Gold prices returned to under the $1200 mark early this morning, as their after-hours rise to five-month highs above that round figure on the back of spreading fears about Greek contagion and the Dow's 'air pocket incident' prompted profit-takers to do just that.
Scrap sellers in India made for physical gold flowing in the opposite direction on Mumbai's bazaar counters than what is normally seen before the critical for gold sales-infused festival of Akshaya Tritiya which falls on the 16th on this month.
Mumbai's Bullion Association representatives fear that perhaps only as little as 20 tonnes of the yellow metal may be purchased in lieu of the more 'normal' 45 tonnes of buying, given the price tag that gold is currently wearing. For six days now, local demand for wedding and festival-related purposes has been effectively nil in India. However, a lot can happen in ten minutes, let alone ten days…
For the moment, gold bulls do not appear to be too preoccupied by the fast-thinning gold-buying crowds over in India. The amount of potentially lost gold sales during this month in that country was seen as already being offset by yesterday's 19.78 tonne addition to the holdings in the SPDR Gold Trust (to 1185.79 tonnes) as funds scrambled to pile into the precious metal.
Now, of course, if you happen to be one of those folks who has been convinced by the bullion bullies that there is no gold in the ETFs (while at the same time they extol the virtues of gold demand by…the ETFs as a harbinger of great things to come!), then you should worry about India not buying. Some ill-informed gold alarmists are also trying to convince you that the IMF has no gold, either. There sure is a lot of 'phantom' gold out there in the minds of casual observers. A fitting penalty for them would be to have to spend weeks inside all of these vaults and have to count every bar on every pallet by hand. They would fall silent for ever after that tally is finished.
Whether or not some of the same funds that made for such an incremental gain in custodial balances for the fund will be hit with margin calls resulting from the Dow's cave-in on Thursday and might have to sell some of that newly acquired bullion, remains to be seen. For the moment, players are bracing for more stock market volatility and more turmoil in other markets as well. Base metals, crude oil, bonds, and currencies come to mind…
New York spot precious metals dealings opened somewhat lower this morning as the degree of uncertainty about the fallout from yesterday's market calamity remained at peak levels. The Nikkei average did lose 331 points overnight and other equity markets showed losses as well today. Investors await more concrete words from the ECB and EU leaders following what is largely seen as a botched attempt to solving the Greek situation. Such words may not come until 10 PM European time and thus we have quite a possible ride still ahead in today's markets.
Spot gold traded down by $11.80 on the open, quoted at $1197.00 the ounce while the US dollar also lost a bit of ground (0.33 to 84.59 on the index after having vaulted to above 85 overnight) at the same time. The euro was trading at 1.273 and was trying to stage a bit of a recovery after the recent drubbing it received. Forecasts of euro-dollar parity have started to make their way into the financial news. Then again, so did projections for a return to the 12K level by the Dow. Not to mention $2000 gold. Crystal balls are not is short supply when needed.
Crude oil was also attempting to stabilize but in this case, near the $77.50 level (gaining 50 cents in the process) –quite a departure from where it recently traded — and with analysts now allowing for a fall in black gold to $60 as an emergent possibility. One way or another, this was oil's worst week since last July — the commodity lost 10% along with a lot of speculative players' confidence levels.
Silver fell 4 cents at the start of the week's final session, with a spot bid quoted at $17.63 per troy ounce. Meanwhile, a mixed picture was in the making in the noble metals, with platinum gaining $1 (at $1652.00) and palladium shedding $3 (at $501.00) while rhodium climbed $10 to $2760.00 on the bid side.
The much-anticipated US jobs statistical release this morning revealed that which economists had already anticipated; that the US economy is adding positions. A second month of job creation took place following the 230,000 positions added in March (revised upward from 162,000). Expectations that 185,000 jobs were created last month were surpassed by a wide margin this morning; it turns out that 290,000 jobs were added in April (okay, 224,000 minus the census workers if we wish to be precise), but also that the jobless rate bumped up from 9.7% to 9.9% during the period in question. The dollar stayed marginally lower in the minutes immediately following the news release.
Meanwhile, the hyped-up fears of Harare-on-the-Hudson style US inflation remain about as far from reality as Harare is from New York. Bloomberg reports that "The Fed's preferred inflation gauge — the core personal consumption expenditures price index, which strips out food and energy — rose at an annual rate of 0.6 percent in the first quarter, the slowest pace since records began in 1959, according to an April 30 Commerce Department report."
Thus, when you are constantly bombarded with the scare of massive inflation (oh, about daily these days), you might remind your favorite newsletter writer of the fact that "The combination of low inflation and high unemployment makes this economic cycle different from any since the 1940s. In the recoveries from the recessions of the 1970s and early 1980s, the annual rate of inflation peaked at 10.2 percent and 9.7 percent, as measured by the core personal- consumption index."
Such weaker and weaker inflation figures (near 1.3% this year) might argue for the 'extended period' to extend into 2011. However, Deutsche Bank Securities opined that the first rate hikes by the Fed could see the light of day as early as August, due to the fact that the economic recovery is growing above-trend and that recovery turning to expansion will give rise to price pressures (of the upward kind) that the Fed is on the lookout for. Happy weekend. Watch for volatile conditions to persist amid pre-weekend activity.
PS — Come catch us at the NEW YORK HARD ASSETS SHOW this coming Monday and Tuesday. Friendly Kitco staffers will be on hand to answer questions and introduce you to a surprise special new investment product as well. This scribe will host a 7:00 AM workshop at the show titled "This is NOT about gold" –though you can bet the word will come up no matter what…
See you there! Please bear with us if these articles either come late or not at all during a few (four) media-busy days…
Jon Nadler
Senior Analyst
Kitco Metals Inc.
North America
Websites:
www.kitco.com
and
www.kitco.cn
Blog:
http://www.kitco.com/ind/index.html#nadler
---
In addition to bullion 2010 American Silver Eagles that are already available, the United States Mint this year will also issue 5 oz. bullion America the Beautiful Silver Coins that are duplicates of the America the Beautiful Quarters. The first five of the coins will released this summer. To see the U.S. locations honored on all the 2010 coins, check out a sister CoinNews site and its page 2010 America the Beautiful Silver Bullion Coins.