On June 3rd, 2010, Kolbe & Fanning Numismatic Booksellers will offer for sale at auction the second part of the remarkable numismatic library carefully assembled over seven decades by the New York numismatic firm founded by brothers Morton and Joseph and ably carried on by Norman, Benjamin, Harvey, Susan, and Lawrence Stack.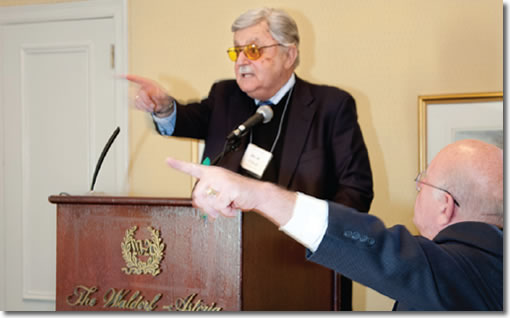 Harvey Stack Auctions a Few Key Lots at the January 9, 2010, Stack Family Library Sale, Part I
For over fifty years, the fabled American portion of the library resided in antique bookcases lining one wall of Harvey Stack's office, and along the opposite wall as well.
Other portions of the library were, for many years, located throughout the main floor of the firm's New York City retail location at 123 West 57th Street and many of the great classic works on ancient and foreign coins and medals were carefully arranged on the second floor in the Coin Galleries offices. Covering virtually all aspects of numismatics and replete with rarities, it was one of the finest working libraries on numismatics ever formed in the United States.
On January 9, 2010, 400 lots of key works from this magnificent library were sold by George Frederick Kolbe at the Waldorf Astoria Hotel in New York City in conjunction with the New York International Numismatic Convention.
The total price realized, including the 15% buyer premium, was nearly $950,000, or an average of nearly $2,400 per lot. Added to that were 100 lots of duplicates from the American Numismatic Society Library, bringing the sale's grand total to slightly over one million dollars.
Comprising 1072 lots, this upcoming second Stack's sale is particularly rich in often-consulted standard reference works, although it also includes a number of rarities and particularly desirable items that did not find their way into the first sale.
Highlights among the 506 American lots in the June 3 sale include:
Stack's 1930s Ledger and Daybook featuring accounting Information for their first auction;
Coin Galleries's special hardbound set of Stack's auction sales, essentially complete from 1935 into the 1970s;
the firm's soft-cover set of Stack's Fixed Price Lists;
an original 1894 American Numismatic Association Convention Program, one of only three known;
several photocopy sets of The Barber Papers, a most important archive comprising personal and professional papers from U.S. Mint Chief Engraver (1879-1917) Charles E. Barber [the originals were donated to the Smithsonian Institution by the Stack Family some years ago];
a number of American counterfeit detectors, including Heaths;
a number of seldom-offered early ANA Convention auction sales;
a bound volume of George L. Leavitt coin auction sales including two unlisted in Gengerke;
a collection of Stack's office copies of B. Max Mehl auction catalogues;
a complete set of Lester Merkin catalogues;
Harvey Stack's heavily annotated 1959 Pennypacker Sale featuring Leonard Holland's choice large cent collection;
Wayte Raymond's earliest known numismatic publication;
an inventory and appraisal of the Byron Reed Collection;
Stack's office copy of the famous Brobston price list of half cents, featuring buyers' names;
a great many bound special edition Stack's sales, some rarely offered;
and many more American numismatic works of exceptional interest.
The second half of the sale is largely comprised of still indispensable works on ancient, medieval and modern numismatics covering the international numismatic spectrum. A few works featured among them include:
important references on Renaissance medals;
classic European auction sales of ancient Greek and Roman coins;
a beautifully bound original set of Dalton & Hamer's Provincial Token-Coinage of the 18th Century;
Dattari's own heavily annotated set of Monete Imperiali Greche, still the classic work on the coins of Roman Egypt;
a complete set of American Numismatic Society Museum Notes and a nearly complete set of Numismatic Notes and Monographs;
Graham Pollard's own set of Italian Renaissance Medals in the Museo Nazionale of Bargello;
Salvesen's 1987 Trade Dollars & Trade Coinage of the World, one of only 15 copies issued;
and a run of various Sylloge Nummorum Graecorum fascicules.
Printed copies of the upcoming June 3, 2010 sale catalogue may be obtained by sending $10.00 to Kolbe & Fanning Numismatic Booksellers, 141 W. Johnstown Road, Gahanna, OH 43230-2700. Telephone: (614) 414-0855; Fax: (614) 414-0860; Email: df@numislit.com. The catalogue is also accessible free of charge at the firm's web site: www.numislit.com.