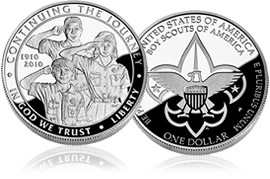 The United States Mint today ceremoniously launched the 2010 Boy Scouts Commemorative Coins at the American Numismatic Association's National Money Show in the Fort Worth Convention Center.
"The Boy Scouts of America Centennial Silver Dollar design combines the organization's tradition and its evolution over the past century as a bastion of leadership, service and community for all the youth of America," said United States Mint Director Ed Moy at the National Money Show.

"I am honored to present this coin to the millions of Americans who benefit from their affiliation with the Boy Scouts of America."
Moy was joined by Bob Mazzuca, the Chief Scout Executive of the Boy Scouts of America. The ceremony featured a special testimonial video by Judge William Sessions, the former director of the Federal Bureau of Investigations, and his son, Congressman Pete Sessions of Texas, a co-sponsor of the legislation authorizing the coin's production.
The U.S. Mint actually began selling the silver dollars several days ago (on March 23, 2010). It was an opening day of mania where demand effectively shut down the Mint's Web online store and phone lines, preventing many collectors from placing orders during the early hours.
The Boy Scouts commemorative coins celebrate the 100th anniversary of the Boy Scouts of America, and are available in collector proof and uncirculated conditions for respective introductory sale prices of $39.95 and $33.95.
"We are deeply honored that the contributions of Scouting are being recognized with a special commemorative coin that not only celebrates our rich legacy, but also helps to raise funds to support the next generation of Scouting leaders," said Bob Mazzuca, the Chief Scout Executive of the Boy Scouts of America.

"Scouting brings families and communities together to prepare America's youth to live with character and integrity while at work and play, and the financial gift from the coin will help continue this into our next century of service."
$10 surcharges from sales of the coin are authorized to be paid to the National Boy Scouts of America Foundation, which will make funds available to local councils in the form of grants for the extension of Scouting in hard-to-serve areas.
Each commemorative coin is struck from 90 percent silver and 10 percent copper, has a diameter of 1.500 inches, or 38.10 mm, and has a weight of 26.730 grams.
A maximum of 350,000 will be minted, with a household order limit of 100 in place.
Customers may order the coins at the United States Mint Web site, http://www.usmint.gov/catalog, or at their toll-free number, 1-800-USA-MINT (872-6468). Hearing and speech-impaired customers may call TTY 1-888-321-MINT (6468).
The Mint releases only two commemoratives each year. The first released was the 2010 American Veterans Disabled for Life Silver Dollar. The proof and uncirculated coins went on sale February 25, 2010 and are still available.