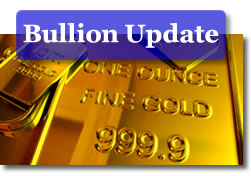 She Said, He Said
Good Day,
Once again, as the new week got underway, the question of the trading day became whether gold prices might be able to maintain the $1100 level.
Following Friday's sharp sell-off, bullion prices did indeed slide further early this morning, with spot bid prices touching that exact mark, in the wake of a still stronger dollar (reaching 80.90 on the index) and a euro that was fast approaching the psychologically important 1.35 level against the greenback.
The combination of apprehensions –one set related to Greece and its woes, the other concerning the surprise interest rate hike by India — that have now come to dominate the mindset of a hitherto eager-to-take-on-risk (and risk assets) crowd is at the root of these recent sell-offs. Perceptions that prices might have further work to do to the downside kept Indian buyers at bay over the weekend, despite expectations that they might make a beeline towards the local bazaars in the wake of Friday's fall in prices.
Monday's market action in New York started off with declines across the precious metals price boards. Platinum was seen pacing the complex, with a $24 drop per ounce, reaching the $1581.00 level. Palladium fell in sympathy, losing $10 to start at $455.00 the troy ounce. Rhodium sank $30 to a $2340.00 per troy ounce bid price. Silver prices opened with a 13-cent decline, quoted at $16.83 bid per ounce. The silver ETF lost some tonnage ground recently, while the gold-oriented one(s) remain in a state of suspended animation despite the near $50 range the market has witnessed in recent weeks.
Gold was posting only a fairly modest drop at the start of the Monday New York session; it was quoted at $1104.70 per ounce, a $3.20 fall from Friday's closing mark. Current support is thought to reside just under the $1100 level, and if that 'safety net' is breached on a closing basis, it could spell the unraveling of the six-week old uptrend in the yellow metal. We apparently have had a mine collapse in Sierra Leone- or, did we? While his own Ministry and local police both said that some 200 people (some as young as 13) had died in a massive gold mine cave-in on Friday, the Minister of mineral resources of S.L. said that 'not even a chicken has died.' Why anyone would spread such a rumour, is beyond our limited ability to comprehend.
The dollar, the euro, and any developments on the tightening front (perhaps by China, perhaps in the US discount rate) could make for quick responses of the selling kind among speculators. Within the first hour of trading, such selling did in fact become manifest and bullion sank to the aforementioned support near $1097.00 per ounce and then broke through it, heading towards $1091.00 per ounce at last check. Crude oil prices fell to under the $80 mark this morning, reflecting apprehensions about the vitality of the global economic recovery, and the aforementioned selling pressure in risk assets that the stronger dollar (and weaker euro) engendered.
Overseas, the euro's woes continue to be the focus of market obsessions. Bloomberg reports that German's Chancellor Merkel is leaning towards making even stricter budgetary 'adjustments' as the pre-condition for her supporting of any EU aid to Greece. Ms. Merkel also said "she's made no decision on whether to back EU aid or to seek International Monetary Fund assistance to help Greece contain Europe's biggest budget deficit."
Meanwhile, there is an apparent (and growing) rift between Ms. Merkel and her Finance Minister, Mr. Schaeuble on just exactly what type of aid-if any-Greece could count on. "Merkel's government said March 19 it wouldn't rule out a loan to Greece from the IMF. Schaeuble's spokesman expressed "great reservation" about aid from the Washington-based lender."
Lest one thinks that Greece and/or the PIIGS are alone in needing to tackle sticky budget issues, Business Week reports that: "The International Monetary Fund warned the world's wealthiest nations Sunday to watch their surging levels of government debt, saying it could drag down the growth needed to ensure continued economic recovery."
"The economic crisis is leaving "deep scars in fiscal balances, particularly in the advanced economies," John Lipsky, the IMF's No 2. official, told the China Development Forum in Beijing. He said that countries that have been going into debt to stimulate their economies should now prepare for belt-tightening steps next year." Evidently, some (Australia, India, etc.) have started this process either due to their sense of timing about the efficacy of the previously applied stimuli, or as a strategy intended to cut inflation off at the proverbial pass.
Others (the US, China, some parts of the EU, etc.) are in 'transition' mode, executing the 'battleship turn' that may appear hard to discern at the moment. Still others (insert your favorite PIIG here), well, they are stuck in a situation that makes for some nervous investors and official world bodies (see IMF). The trend, however, is the single most important thing to watch for, as regards the hung-over carry traders and their now years-long orgy of speculation. This trend, it ain't your friend, amigos.
For those of you who have been following the Rio Tinto saga in China –and it has been a difficult story to follow, as foreign media were not allowed in the courtrooms- Marketwatch reported this morning that: "Rio Tinto PLC executive Stern Hu and a colleague on trial in Shanghai pleaded guilty Monday to accepting bribes, according to published report Monday. Hu, an Australian national, and three Chinese employees of the Anglo-Australian minerwent on trial in the Shanghai No.1 Intermediate People's Court Monday on charges of accepting bribes and violating China's commercial secrets. The case has been mired by allegations the charges are politically motivated to bring to heel a highly profitable foreign company."
How this case will conclude, how talks regarding iron ore prices will eventually shake out, both remain in the realm of speculation for the moment. Last week, the China Iron & Steel Association said that local steel mills are against the roughly 90% price increase in ore prices being demanded by suppliers, and bilateral talks have ground to a halt.
Keep an eye on the euro as it makes fresh, two-week lows against the greenback. Clarity is still lacking in the words coming from Germany on the subject of Greece, and this will keep the currency markets on edge in coming days. Also be on alert for any further signs of tightening by various policymakers (China comes to mind). The knee-jerk reaction to India's rate hike should say enough.
Meanwhile, all is not all that well in the States, where Tea Party protesters yelled the 'N'-word at a US Congressman, then spat upon him, while the black lawmaker was walking into the US Capitol to cast his vote. A vote, which, along with 218 other 'yes' votes (almost) ensures that 32 million Americans will now hopefully enjoy that which every civilized nations' denizens on the planet do: access to medical care.
The rift that this long-overdue reform has engendered among Americans, harks back to the 60's civil liberties turmoil, to say the least. Republicans opposed the legislation unanimously, and next it's up to the US Senate to vote on it. That's where US Democrats must now delicately maneuver a package of 'fixes' to the bill via the Stone Age vintage and mysterious process known as "reconciliation." Now there's a single-word oxymoron for you…if there can be such a thing. At any rate, some players found that profits are to be made out of this situation. Health-care stocks surged this morning. The real potential effects from the bill? Well, we won't see any until 2014 –at best.
Good Day to All.
Jon Nadler
Senior Analyst
Kitco Metals Inc.
North America
Websites:
www.kitco.com
and
www.kitco.cn
Blog:
http://www.kitco.com/ind/index.html#nadler
---
Check out other site market resources at Live Gold Spots, US Silver Coin Melt Calculator and America the Beautiful Silver Coins.