DALLAS, TX — A 1943-S Cent Struck on a Bronze Planchet, VF35 PCGS, an amazing 20th Century Branch Mint error rarity, proved itself once again as one of the most sought after error coins in U.S. numismatics when it soared to an impressive $207,500 tally as part of Heritage Auctions Feb. 4-7 Long Beach, CA Signature® U.S. Coin Auction.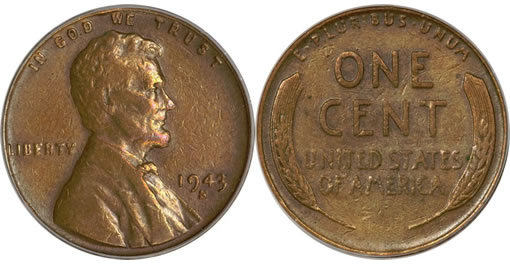 This 1943-S Cent struck on a bronze planchet realized $207,000 at Long Beach – Click image to visit Heritage for additional information
All told the Heritage Long Beach event realized $8.76 million as almost 4,000 bidders competed for the rarities in this focused offering. All prices include 15% Buyer's Premium.
"By certain standards this was indeed a small auction, but we're thrilled with the prices," said Greg Rohan, President of Heritage Auction Galleries. "The market is definitely on the rise. We saw 91.2% of lots sold by value, and 93.7% sold by number of lots. Those are good numbers."
The $207,000 paid for the 1943-S is just shy of the $218,500 price paid in Heritage's January 2010 FUN Auction for a 1943 cent in bronze struck at Philadelphia. The Long beach example, one of just seven known, is a relatively recent entrant to the numismatic marketplace; it was unknown to David Lange in 1996, when he published his Complete Guide to Lincoln Cents, having been "kept for decades" privately by the owner.
Collectors were also watching as a 'near-mythic' 1849-C Open Wreath Gold Dollar, XF45 NGC, brought $218,500. The 1849-C Open Wreath gold dollar has few equals among all regular issue U.S. gold coins.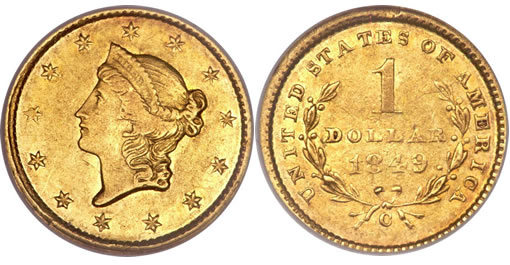 This 1849-C Open Wreath Gold Dollar brought $218,500 – Click image to visit Heritage for additional information
In fact, there are just five confirmed examples, and the fifth example was long considered only a rumor. It is one of the great Southern gold rarities, struck at the long-closed branch mint in Charlotte, NC, and this is only the 13th time that an example has appeared at public auction since 1944. The piece was the cornerstone of The Longfellow Collection.
California Gold Rush gold featured prominently in the Heritage Long Beach event, and gold ingots recovered from the SS Central America performed especially well for the home state crowd, with an important 55-Ounce Harris Marchand & Co. Gold Ingot, CAGB-135, serial number 6526, with a stamped value of $995.73 leading the grouping with a $172,500 final price.
A medium to large size Kellogg & Humbert Gold Ingot, 48.65 ounces, serial number 947, with a $784.43 face value towered miles above its original mid-nineteenth century value with a winning bid of $103,500, while a medium-size Kellogg & Humbert gold ingot, 38.76 ounces,CAGB-635, mold K&H-02, went to a savvy collector for $97,750.
Of particular note to gold buyers was the $109,250 final price bid for a significant 1875 Gold Dollar, MS66 PCGS CAC, a low-mintage rarity also from The Longfellow Collection, tied for finest certified.
Except for the double eagle, all of the 1875 gold coin issues were struck in minuscule quantities; all of them are great rarities today. In the case of the gold dollar, the mintage was just 400 business strikes, plus 20 proofs, one of the lowest mintages of any U.S. coin issued for circulation.
"We continue to see gold out-perform almost every other sector of the rare coin market," said Rohan. "Smart collectors are looking to gold numismatic rarities for their beauty as well as their enduring value. This was in strong evidence as shown by the competition for the best pieces as Long Beach."
Further highlights include, but are certainly not limited to:
Impressive 1796 10C MS64 Prooflike NGC: Ex: Ed Price Collection. JR-6, R.3. Realized: $86,250.
1931-D $20 MS64 PCGS. CAC: Realized: $80,500.
1929 $20 MS65 PCGS: Ex: Morse. Realized: $80,500.
Small to Medium Size Justh & Hunter Gold Ingot, CAGB-352, from the S.S. Central America: Realized: $74,750.
About Heritage Auctions
Heritage Auctions, headed by Steve Ivy, Jim Halperin and Greg Rohan, is the world's third largest auction house, with annual sales more than $600 million, and 475,000+ registered online bidder members. For more information about Heritage Auctions, and to join and gain access to a complete record of prices realized, along with full-color, enlargeable photos of each lot, please visit HA.com.
Want to get the up-to-the-minute updates and breaking news stories about Heritage Auctions? Get them as they happen at: Twitter.com/HeritagePress; Twitter.com/JimHalperin; Facebook: Heritage Auction Galleries.