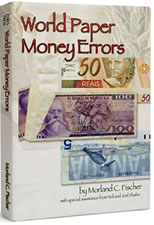 NEWPORT BEACH — Enter an enthralling area of numismatics with this groundbreaking book, World Paper Money Errors.
A first of its kind, this full color reference guide offers market prices for foreign printing errors, rather than limiting the numismatic community to domestic currency.
This book offers an eye-appealing price guide to the market for the growing interest in collecting international currency.
Delving into the new and upcoming hobby of collecting foreign currency errors, this book features over 200 examples of unique notes.
World Paper Money Errors is an all-inclusive guide to learning about errors that occur during the printing process which create unusual and intriguing errors.
Author Morland Fischer's keen and clear explanations make distinguishing each error engaging and compelling.
Compressive collection featuring rare notes from over 70 countries
Provides descriptions and examples of 19 types of errors
Insightful comparison between domestic and foreign currency
Explanation of valuing notes using an innovative Foreign Error Note (FEN) Scale
Market price for each featured error note
Exposing hundreds of dramatic, colorful and intriguing foreign paper money errors, collectors and spectators alike will be exposed to a new form of collecting currency. World Paper Money Errors is a pioneer in the modern age of numismatics.
World Paper Money Errors
Published by Zyrus Press, Inc. of Irvine, California (www.zyruspress.com)
ISBN-10: 1-933990-25-2
ISBN-13: 978-1-933990-25-5
MSRP: $34.95
Edition: 1
Publication Year: 2010
Binding / Size: Paperback 6×9
Photos / Illustrations: 500+ Images
Pages: 250
Case Qty: 25
Releasing April 15th, 2010