In the lead-up to Australia Day, the Assistant Treasurer, Senator Nick Sherry, announced the design of the newest coin to go into the hands of Australians.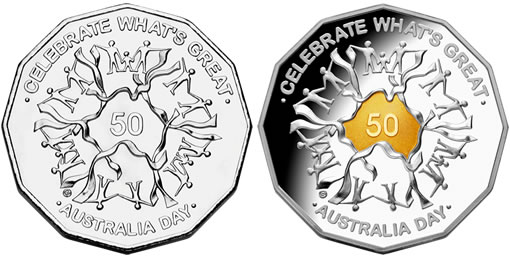 Australian Day 2010 coins: 50 cent circulating coin and collectible gold-plated coin for collectors (Click image to enlarge)
Commemorating and celebrating Australia Day and designed by the Royal Australian Mint in consultation with the National Australia Day Council, this 50 cent coin marks the spirit of this significant national celebration and will soon be available around the country.
Australian cricket great and National Australia Day Council Chairman Adam Gilchrist welcomed the newest coin to go into the hands of Australians.
"On Australia Day Australians come together to reflect upon our past, present and future," Mr Gilchrist said.

"It is so important to celebrate what's great about this fantastic nation of ours and it is exciting that each Australian will get a reminder of this in their change over the year."
The coin design, by Mint sculptor Vladimir Gottwald, features an artistic impression of Australia made out of ribbons with a circle of people surrounding the country. The ribbons have been adapted from the official Australia Day logo.
"This coin design captures the essence of togetherness and the ribbons convey a sense of spirit, pride and celebration," the Assistant Treasurer said.

"It is another superb design in the Mint's long and proud history of producing coins for special occasions."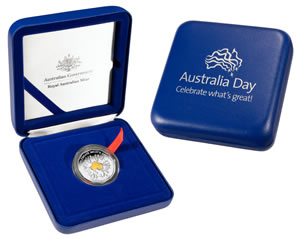 For those who would like a special keepsake, a stunning, selectively gold-plated collectible coin is available for purchase.
For the first time, the Mint has created packaging that allows collectors to display the new coin from circulation alongside the precious metal collectible version. Together they will make an Australia Day 2010 numismatic set.
The selectively gold plated, silver Australia Day 2010 coin and specially wrapped stack of the new commemorative circulating coin is available from the Royal Australian Mint Coin Shop or online www.ramint.gov.au. These coins can also be bought from Australia Post Shopfronts and Mint Authorised coin dealers across the country.
About the Royal Australian Mint
His Royal Highness, The Duke of Edinburgh, officially opened the Royal Australian Mint, Canberra, on Monday 22nd February 1965. The Mint was commissioned to produce Australia's decimal coinage, which was to be introduced into circulation on 14th February 1966. The Royal Australian Mint holds a place in history as the first mint in Australia not to be a branch of the Royal Mint, London.
Since opening in 1965 the Mint has produced over eleven billion circulating coins and has the capacity to produce over two million coins per day, or over six hundred million coins per year.
The Royal Australian Mint has struck coins for a number of South Pacific nations. Export coins were first struck in 1969 for New Zealand and, since then, coins have been produced for Papua New Guinea, Tonga, Western Samoa, Cook Islands, Fiji, Malaysia, Thailand, Nepal, Bangladesh, Israel and Tokelau.