Collectors from Canada and around the world can thank the Royal Canadian Mint for a bumper crop of new and exciting 2010 collector coins as the fall weather cools and the shopping season heats up.
"The Royal Canadian Mint is pleased to offer products which appeal to traditional collectors as well as encourage new customers to experience the pleasure of owning exquisitely crafted coins with meaningful themes," said Ian E. Bennett, President and CEO of the Royal Canadian Mint.
"The broad range of collector coins being issued today demonstrates the Mint's passion for innovation and creativity, as well as our desire to engage more and more Canadians in celebrating their natural, cultural and historical heritage by collecting our spectacular coins."
This impressive offering consists of:
a limited-edition 2010 Poppy colored proof silver dollar;
two new Crystal Snowflake $20 silver coins and the first new $300 gold Crystal Snowflake coin in four years;
a 99.99% pure silver Holiday Pinecones coin enhanced with ruby-colored crystals;
a cool new Santa and the Red-Nosed Reindeer 50-cent lenticular coin;
a 2010 Holiday uncirculated coin gift set;
the 2010 Wildlife Conservation Series #2 coin celebrating the Polar Bear;
two new gold and two new silver coins honouring the Chinese Lunar Calendar's Year of the Rabbit;
the third and final Dinosaur Exhibit # 3 lenticular coin featuring Sinosauropteryx;
new 2010 Kilo gold and silver coins celebrating Banff National Park's 125th anniversary with typical grandeur;
a $10 Sterling Silver Coin and Stamp Set dedicated to the majestic Blue Whale;
and a 2010 $1 Gold Plated Coin and Stamp Set honouring the 100th anniversary of the Canadian Navy.
The following describes the new products available to customers today.
2010 Proof Poppy Silver Dollar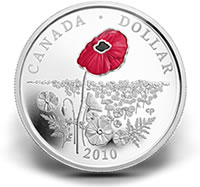 As Canadians prepare to wear the poppy once again in remembrance of the countless men and women who stepped forward to defend the cause of peace and freedom, November 11, 2010 will also be a time to reflect on the passing of the last Canadian veteran of World War I.
The Royal Canadian Mint has crafted a solemn and dignified tribute to the memory of Canada's World War I veterans and the sacrifices of this defining generation with a 2010 limited-edition silver dollar decorated with a lone colored poppy overlooking a field of poppies engraved over a flawless proof background.
The poignant and symbolic reverse design of this coin was created by Senior Mint Engraver Christie Paquet. The coin is limited to a worldwide mintage of 5,000 and retails for $139.95 CDN. [More…]
2010 Gold and Silver Banff National Park Coins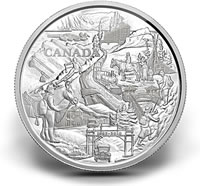 To travelers worldwide, "Banff" says it all. Anyone aware of Canada understands that this one word is synonymous with one of the world's greatest natural wonders.
On the occasion of Banff's 125th anniversary, the Mint is delighted to celebrate the full glory of this Canadian treasure on its newest gold and silver one-kilo collector coins. These are also the Mint's first kilo coins to be dedicated to a subject other than the Vancouver 2010 Winter Games.
Artist and coin designer Tony Bianco calls these coins a "huge canvas" on which he creatively evoked the most striking features and landmarks which have made Banff National Park a "must-see" destination for generations of Canadian and international visitors.
The splendid images of this magical part of Canada are forever preserved in only 25 one-kilo coins crafted of 99.99% pure gold and 750 99.99% pure silver one-kilo coins. While the extremely rare gold kilo coins have already sold-out, their massive silver siblings are available for $1,904.95 CDN each. [More…]
2010 Polar Bear Square-Shaped Coin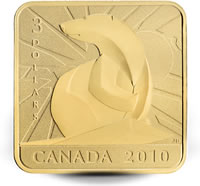 Canadians take great pride in their world-famous natural heritage and so does the Royal Canadian Mint. To celebrate and raise awareness of some of Canada's most vulnerable wildlife species, the Mint is proud to feature the Polar Bear on the second coin of its striking square-shaped Wildlife Conservation Series.
The beautifully stylized bear appearing on the reverse of this coin $3 gold-plated sterling silver coin is the work of accomplished coin designer Jason Bouwman.
This exotic coin is limited to only 15,000 examples worldwide and retails for $59.95 CDN. [More…]
2010 50-Cent Sinosaupteryx Dinosaur Lenticular Coin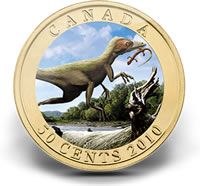 The third and final issue in the wildly popular Dinosaur Exhibit series features Sinosaupteryx, another prized specimen from the 100 year-old Canadian Museum of Nature's celebrated dinosaur fossil collection, located in the heart of Canada's capital.
A tilt of the coin reveals the "Chinese Lizard Wing" dinosaur stalking and capturing its prey, as it did millions of years before humans roamed the Earth. The coin is packed with a series of 5 collector cards starring dinosaurs from the museum's fossil collection, as well as a card featuring the Canadian Museum of Nature.
This last of three exciting dinosaur coins is available, while quantities last, for the retail price of $24.95 CDN. Those who hurry can still collect all three! [More…]
2010 $20 Blue and Tanzanite Crystal Snowflake Silver Coins
With the popular appeal of these coins becoming as predictable as the onset of winter, the Mint is pleased to introduce two new pure silver coins to delight fans of intricately engraved snowflakes encrusted with CRYSTALLIZED™ — Swarovski Elements.
Available with either blue or tanzanite crystals surrounding a clear crystal at the centre of the coin, these elegant interpretations of six-sided dendrite ice crystals are the work of Mint Engraver Konrad Wachelko. These luxurious coins have a combined mintage of 15,000 and each retail for $99.95 CDN.
2010 $20 Ruby and Moonlight Pine Cone Silver Coins
With the holidays rapidly closing in, the Mint has chosen a festive pine cone motif, embellished by CRYSTALLIZED™ — Swarovski Elements, as the subject of its holiday-themed 2010 $20 fine silver coin.
In another twist for 2010, this coin is available in a choice of soft blue Moonlight or Ruby crystals. These coins are limited to a mintage of 5,000 each world-wide and retail for $99.95 CDN.
2010 50-Cent Santa and Red-Nosed Reindeer Coin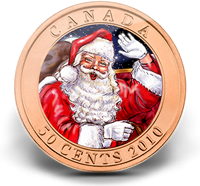 The magic of Santa Claus and Rudolph, his most famous reindeer, comes alive on a 50-cent copper-plated lenticular coin.
Young and old holiday revellers alike can enjoy the vibrant scenes of Santa giving a cheerful wave and Rudolph coming for a landing on his Christmas night trip around the world, as the coin is turned from side to side.
This addition to the Mint's annual lenticular holiday series is available for $26.95 CDN, while supplies last. [More…]
2010 Holiday Gift Set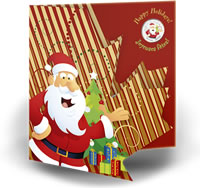 The Holiday Gift Set makes a return in 2010 with a set of uncirculated 2010 coins enhanced by a jolly caricature of Santa painted on a 25-cent coin.
The coins are presented in a card with a maple leaf-shaped die cut to enhance their display.
Available while supplies last, the 2010 Holiday Gift Set is available for $19.95 CDN. [More…]
2011 $150 Year of the Rabbit Gold Coin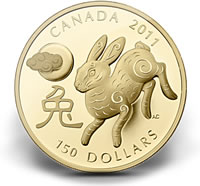 Rabbits rule as the Chinese Lunar Zodiac marks the Year of the Rabbit in 2011. This is only the second issue from a new series of 18-karat gold coins which will celebrate each animal symbol of the Chinese Lunar Zodiac over a 12 year span.
Artist Aries Cheung has created an original and distinctly Asian interpretation of the good-natured rabbit surrounded by clouds of good fortune and the Chinese character for this lunar sign.
This exquisite coin with a proof finish and a face value of $150 is limited to 2,500 coins worldwide and retails for $638.88 CDN. [More…]
2011 $15 Year of the Rabbit Silver Coin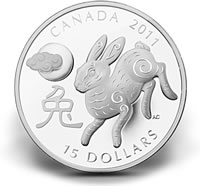 A 99.99% pure silver companion to the 18-Karat Year of the Rabbit coin once again features the original rabbit design of artist Aries Cheung. This coin is also the second in a new series of proof $15 fine silver Chinese Lunar Zodiac coins, which was launched by the Year of the Tiger in 2010.
Available individually, these beautiful coins can be also purchased as part of a new subscription series. Those collectors with an eye for value will appreciate the free lacquered hardwood collector case (valued at $199) decorated with classic Chinese artwork (not available separately), which is offered with every subscription by dialing 1-877-884-4446 or by visiting www.mint.ca/lunar.
These coins are limited to a worldwide mintage 9,999 examples and each retail for $98.88 CDN.
2011 $150 Year of the Rabbit Lunar Hologram Gold Coin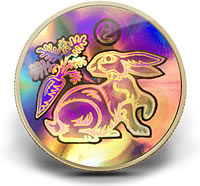 The twelfth and final coin in a series that has captivated coin collectors and fans of Chinese culture since 2000 comes to a gracious end with the 2011 18-Karat gold Year of the Rabbit lunar hologram coin.
Designed by artist Harvey Chan, this precious coin features the Mint's leading-edge hologram technology on its reverse side as its obverse displays an effigy of Her Majesty Queen Elizabeth II against a mirror-like proof field.
With a worldwide mintage of only 4,888, this coin retails for $638.88 CDN. [More…]
2011 $15 Year of the Rabbit Lunar Lotus Silver Coin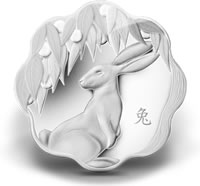 The second issue from a head-turning series of sterling silver Chinese Lunar Zodiac coins with a scalloped shape pays its own unique tribute to the Year of the Rabbit.
Collectors can choose to purchase this exotic-looking Lunar Lotus coin individually, or subscribe to the entire 12-year series at www.mint.ca/zodiac or by dialing 1-877-884-4446.
A beautiful hardwood collector case worth almost $200 is offered free with every subscription. With a worldwide mintage of 19,888, this coin retails for $98.88 CDN.
2010 Navy Centennial $1 Coin and Stamp Set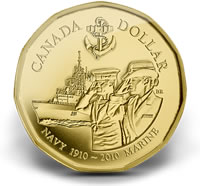 Throughout 2010, the centennial of Canada's Navy has been cause for celebration by Canadians and national institutions from coast to coast to coast.
Numismatists and philatelists alike can now order a special set combining a gold-plated version of the 2010 one-dollar Canadian Navy Centennial commemorative circulation coin with a 2010 souvenir sheet of two stamps portraying the Navy of yesteryear and of today.
This product is presented in an attractive metal tin including a booklet telling the story of Canada's century of naval exploits, decade by decade, featuring archival photographs which document the Navy's 100 years.
Limited to a mintage of 20,000 and available through Canada Post and the Mint, this coin and stamp set retails for $39.95 CDN. [More…]
2010 $10 Blue Whale Silver Coin and Stamp Set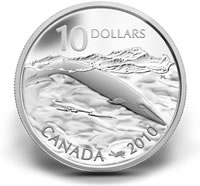 The Mint has combined two majestic collectibles in a coin and stamp set dedicated to the endangered blue whale. Featuring a $10 sterling silver coin with two $10 stamps, the largest ever issued by Canada Post, this impressive collection is completed by a fact-filled colour booklet, housed in a solid maple box.
Collectors can both admire and learn about the blue whale by purchasing one of only 10,000 sets available worldwide at the retail price of $79.95 CDN. This product will ship in early November 2010.
All of the Mint's products are available directly from the Mint at 1-800-267-1871 in Canada, 1-800-268-6468 in the US, or on the Internet at www.mint.ca. The coins are also available at the Royal Canadian Mint's boutiques in Ottawa and Winnipeg as well as through our global network of dealers and distributors. [More…]
About the Royal Canadian Mint
The Royal Canadian Mint is the Crown Corporation responsible for the minting and distribution of Canada's circulation coins. An ISO 9001-2008 certified company, the Mint is recognized as one of the largest and most versatile mints in the world, offering a wide range of specialized, high quality coinage products and related services on an international scale. For more information on the Mint, its products and services, visit www.mint.ca.