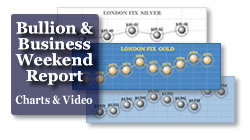 Precious metals were on fire with weekly gains in New York ranging between 3.9 to 9.6 percent and in London from 2.1 to 7.0 percent. Gold, as typical, moved opposite of the US dollar which showed weakness as various economic reports kindled concerns and then attraction for safe-haven metal buying.
In other commodity related news, crude oil and prices at the pump also surged. New York oil jumped 4.3 percent this week while the average cost of regular unleaded gasoline in the US spurred ahead 10.8 cents.
In stocks, major US indexes enjoyed weekly gains of between 1.8 percent and 2.7 percent while European stocks rose to a 15-month high.
Precious metals weekly prices and gains follow:
In London Fix bullion weekly prices, gold rose 2.1 percent, silver jumped 6.7 percent and platinum soared 7.0 percent. Gold on Friday was fixed at $1,126.75 an ounce, gaining $22.75 for the week. Silver ended at $18.12 an ounce, for a weekly increase of $1.13. Platinum was settled to $1,569.00 an ounce, rising $103.00 for the week.
For New York metals weekly prices, gold jumped 3.9 percent, silver soared 9.6 percent and platinum surged 7.6 percent. Gold for February ended at $1,138.90 for a weekly increase of $42.70. Silver futures for March delivery ended at $18.47, rising $1.62 on the week. Platinum for April delivery closed to $1,570.60, advancing $110.60 on the week.
Notable bullion quotes follow:
"The weak headline [payroll] number has been interpreted by the market to mean the Fed will keep its easy money stance, which has resulted in a very weak U.S. dollar," Brian Kelly, chief executive of Kanundrum Research, a commodities and macroeconomic research firm, said on MarketWatch. "In turn, gold is a major beneficiary."
"People were largely going short into the market, and as the non-farm payrolls for December were slightly worse than expected, those shorts were covered," Michael Widmer, an analyst at Bank of America Merrill Lynch, said on Reuters. "The dollar came off quite a lot on the back of it, and that contributed to pushing gold higher."
"The U.S. is not in a position to raise rates, and the dollar is going to suffer," Matt Zeman, a metals trader at LaSalle Futures Group Inc. in Chicago, said on Bloomberg. "This is a green light for gold and other metals to continue higher."
"Gold prices tried to find support at lower levels overnight, following yesterday's declines that were largely a combination of dollar strength and on-going profit-taking," wrote Jon Nadler, senior analyst at Kitco Metals, Inc. "The economy lost 85,000 jobs in December albeit November's numbers were revised to show a small degree of job creation. The unemployment rate remained at 10% in the US. The US dollar declined towards the 77.75 level in the wake of the labour statistics, and gold regained its footing."
Gold, considered a hedge during times of high inflation and economic uncertainty, tends to follow oil and move opposite to the U.S. dollar. A rising greenback makes dollar-denominated commodities, like bullion, more expensive for holders of other world currencies.
To follow are silver, gold and platinum performance charts, oil news, week-ending stock summaries, and precious metal article summaries.
London Fix Charts: Silver, Gold and Platinum
( Dec 31 – Jan 8 )
The London Fix is one of the most used bullion quotes around the world. The London AM fix for gold and platinum begins at 10:30am GMT (5:30am in New York), and the PM fix begins at 3pm GMT (10am in New York). The London Fix for silver begins each business day at 12pm GMT (7am in New York).
London Fix Precious Metals Prices
( Dec 31 – Jan 8 )
| | | | | | |
| --- | --- | --- | --- | --- | --- |
| | Up | Down | Week % Change | Week $ Change | Friday Close |
| Silver | X | | 6.7% | $1.13 | $18.12 |
| Gold | X | | 2.1% | $22.75 | $1,126.75 |
| Platinum | X | | 7.0% | $103.00 | $1,569.00 |
(Dec 24 – 31)
| | | | | | |
| --- | --- | --- | --- | --- | --- |
| | Up | Down | Week % Change | Week $ Change | Friday Close |
| Silver | | X | -1.9% | -$0.33 | $16.99 |
| Gold | | X | -0.05% | -$0.50 | $1,104.00 |
| Platinum | X | | 0.7% | $10.00 | $1,466.00 |
(Dec 18 – 24)
Up

Down

Week % Change

Week $ Change

Friday Close

Silver

X

0.1%

$0.01

$17.32

Gold

Unchanged

0.0%

$0.00

$1,104.50

Platinum

X

2.8%

$39.00

$1,456.00
(Dec 11 – 18)
| | | | | | |
| --- | --- | --- | --- | --- | --- |
| | Up | Down | Week % Change | Week $ Change | Friday Close |
| Silver | | X | -1.1% | -$0.20 | $17.31 |
| Gold | | X | -1.7% | -$19.50 | $1,104.50 |
| Platinum | | X | -0.8% | -$12.00 | $1,417.00 |
(Dec 4 – 11)
| | | | | | |
| --- | --- | --- | --- | --- | --- |
| | Up | Down | Week % Change | Week $ Change | Friday Close |
| Silver | | X | -7.0% | -$1.32 | $17.51 |
| Gold | | X | -5.6% | -$66.25 | $1,124.00 |
| Platinum | | X | -2.9% | -$43.00 | $1,429.00 |
*Week change numbers are for Friday PM-Friday PM ( Unless a time is closed for holidays)
Weekly World Business News: Oil, Gasoline, and Stocks Prices
Oil prices closed higher on Friday, "marking their fourth weekly gain as the dollar dropped sharply following a largely disappointing jobs report, boosting dollar-denominated commodities prices," wrote Moming Zhou of MarketWatch.
"Crude prices have been driven by investment money," Tetsu Emori, a commodity fund manager at Astmax Co. in Tokyo, said on Bloomberg. "The situation in the U.S. is getting better, but people are still not really confident."
On Friday, New York crude-oil for February delivery rose 9 cents, or 0.1 percent, to $82.75 a barrel. Oil surged $3.39, or 4.3 percent, on the week. It has risen in 11 of the past 12 trading days.
Prices at the pump surged 1.2 cents from Friday to Saturday. The national average for regular unleaded gasoline is $2.737 a gallon, according to a AAA fuel report. The price is 8.1 cents higher than last week and 10.8 cents more than a month back. Compared to a year ago, average gasoline prices have jumped 95.5 cents.
U.S. stocks rose slightly on Friday "as investors took in stride a surprisingly weak jobs report amid other recent signs that the economy appears to be stabilizing," wrote Alexandra Twin of CNNMoney.
"We're expecting continued strength for earnings in the short term, but for sustainable growth, I don't know how we can have that without employment improving," Patrick Galley, chief investment officer at RiverNorth Capital Management, said on MarketWatch.
For the week, the Dow gained 1.8 percent, the S&P rose 2.7 percent, and the Nasdaq advanced 2.1 percent.
Friday figures for the three major US indexes follow:
The Dow grew 11.33 points to close at 10,618.19.

The S&P added 3.29 points, closing at 1,144.98.

The NASDAQ picked up 17.12 points to finish at 2,317.17.
And in other world markets:
The German DAX improved 18.25 points to close at 6,037.61.

The Paris CAC 40 leaped 20.34 points, to close at 4,045.14.

And the London FTSE 100 gained 7.52 points to finish at 5,534.24.
Surprising U.S. job losses (85,000 in December according to the Labor Department) pressure Obama administration. Carmen Roberts, reports. The following weekly business recap video from Reuters discuses this and US stocks:
Bullion and Business Articles
In related silver and gold news, interesting or quick-read articles from the week include:
Gold rises as jobs data hit dollar – MarketWatch
Gold futures rose Friday as the U.S. dollar dropped sharply against its major rivals after a largely disappointing jobs data, raising gold's investment appeal. Platinum and palladium rose as the first exchange-traded funds backed by the two metals started trading in New York …
Gold Caps First Weekly Gain Since November on Dollar's Decline – Bloomberg
Gold rose, capping the first weekly gain since November, on bets that a slumping dollar will boost the appeal of the metal as an alternative asset. Platinum rose to a 17-month high on increasing investment demand. The greenback fell as much as 0.7 percent against a basket of six …
Unemployees Of The Month – Jon Nadler, Kitco
Gold prices tried to find support at lower levels overnight, following yesterday's declines that were largely a combination of dollar strength and on-going profit-taking. Asian markets witnessed further declines in the yellow metal, which sank to a low near $1,118 as mild selling spilled over into the overnight hours and as few bargain hunters stocked up on it ahead of critical US data that was released …
US Mint Bullion Eagles Still Strong – CoinNews
Sales of collector coins from the United States Mint appear to have stopped their three week slide, but not by much. According to their latest report, no new drastic drops are apparent. Unfortunately, also equally missing from that data are significant gains. While not huge in numbers, the First Spouse Gold Coins saw almost across the board improvement, not that this was hard to do after the previous week's disappointing …
US Collector Silver Coins First Rise of 2010 – Silver Coins Today
The first United States Mint numismatic product sales report in 2010 shows rising demand for silver coins, despite a holiday shortened week. The increases break a three-week trend of softening sales, with the latest levels nearing those that were last seen toward the middle of December. The 2009 Silver Proof Set enjoyed the most collector attention. Weekly numbers increased by 7,021 compared to the prior pick …
2009 American Silver Eagles Records – CoinNews
2,773,500 American Silver Eagle Bullion Coins were sold during the final weeks in 2009, according to the latest United States Mint sales data. Last month ranked as the second best December ever for the silver coin series that was introduced in 1986. It was the fourth best month in 2009 — a year that saw a record-breaking 28,766,500 eagles fly out of US Mint inventories. December and yearly numbers would have been more spectacular …
For daily bullion price charts, see gold spots, silver spots, or daily bullion prices.