The annual Penny Harvest is now underway with an estimated 500,000 students participating in the 19th year of its operation.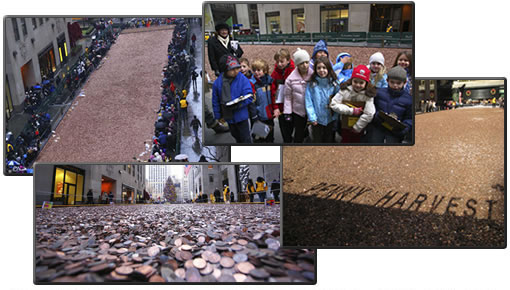 Penny Harvest Field at Rockefeller Center in 2007 (Photos courtesy of Common Cents©)
Schools across the nation have signed on to take part in the activity by allowing their students to take an active roll in the process. Through the use of adult coaches, peer leaders, assemblies, etc., kids are asked to volunteer their time to help raise money for their community, one penny at a time.
Those who do participate then go home and ask their family, friends, and neighbors for loose change (as well as donate some themselves) and begin to collect it to be eventually turned back in to their school. Once the coins are compiled, the funds are set aside while those same students take an active part in deciding what do to with the money.
"Philanthropy Roundtables" are established by the kids where they can discuss the issues their communities face, and how they can help. Then, when a decision has been made, a charitable grant is forwarded to the recipient of choice, be it a homeless shelter, senior center, community project, etc.
Hundreds of thousands of dollars are raised annually with the total amount given back is estimated at over $7 million, according to Common Cents, the nonprofit organization who started the Penny Harvest. Not too bad for some pocket change.
So if you are lucky enough to get asked for some spare change from a 'Penny Harvester', help them out — it's for a good cause. Or, donate online now.