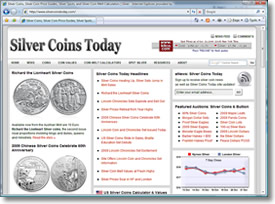 On October 17th, 2008, SilverCoinsToday.com offered its first online article describing the addition of a silver coin melt calculator.
From that simple announcement one year ago, Silver Coins Today has grown to become CoinNews Media Group's fourth largest website, attracting more than 21,000 unique visitors a month.
While the various country coin calculators are always prominently listed on the home page, what draws collectors to the site are timely articles featuring some of the most unique silver coins from worldwide mints, like the recent Richard the Lionheart coin from Austria or the 60th anniversary coins from China.
"It is hard to believe that Silver Coins Today is celebrating its one year anniversary," said Darrin Lee Unser, collector and Silver Coins Today Editor. "Thousands of people depend on us to provide relevant information on silver coins from around the world. We are proud to provide this service and would like to take this opportunity to thank our loyal readers and content contributors."
In addition to daily articles, the site offers unique resources, including weekly US Mint silver coin sales, the Anatomy of a Coin, a variety of silver and coin related graphs and daily links to major news from around the web. Silver Coins Today also has a page educating readers on the element of silver and a history of its use, something surprisingly lacking on other silver related websites.
More enhancements are scheduled to be added the site over the next year, making it even more valuable to the silver coin collector.
# # #
About CoinNews Media Group LLC
CoinNews Media Group LLC owns and operates several coin news and related sites where more than 170,000 collectors spend time at each month. These sites include, but are not limited to: CoinNews.net, CoinCollectingNews.org, WorldMintCoins.com, AmericaBeautifulQuarters.com, FirstSpouseCoins.us, 2009LincolnPennies.com, and LincolnCoinChroniclesSet.com.