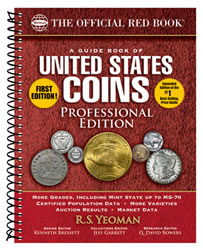 Those interested in coin collecting will soon have another valuable tool available in their arsenal for building a great collection. Shipping on October 13th from Whitman Publishing is The Guide Book of United States Coins – Professional Edition.
Many will immediately say to themselves, but I already have the guide, commonly known as the Red Book. Almost everyone in the industry, from young coin collectors to seasoned dealers, has been using the Red Book for years (it is currently in its 63rd edition).
It has become a necessary reference that is used to not only identify a coin with its thousands of colored pictures, but to also give an idea as to what the value might be based on its condition and rarity.
The Professional Edition of the Red Book, however, takes this resource one step further. Perhaps not as handy to carry around a coin show as the standard version, the new book is geared more towards the intermediate and advanced collector.
Additions specific to the Professional Edition that are not in the standard book include:
Sharpness and striking characteristics for each coin type
Detailed grading instructions for proof and mint state coins
Auction records for each coin listed
Enlarged photos of key focal points for many more coins that in the standard Red Book
Expanded valuations and grades for each coin
Many more features not listed here
As hinted at before, this new book is much larger than the guide most people know. It is 8.5 inches by 11 inches, and comes spiral bound. Officially touted as the guide for more advanced collectors and investors, it is really more of a companion piece to the regular edition. Evidently, both versions will contain information unique to them and both will be published annually.
Pre-orders are available now from Whitman (see 2010 Red Book U.S. Coins – Professional Edition), and will soon be on the shelves at bookstores and hobby dealers nationwide.