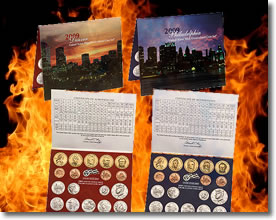 2009 US Mint Uncirculated Set sales are on fire and off to a lightning quick start, effortlessly surpassing initial demand of prior year sets.
Between their launch on noon Thursday (Oct. 1) through Sunday (Oct. 4), coin collectors purchased a whopping 297,842 at $27.95 each. The US Mint pulled in a hefty $8,324,684 in a mere four days.
The annual Mint set is an always popular product, with modern sales reaching into at least several hundred thousand and many topping a million. But initial sales from at least the last two years have not blasted off as they have this year, as the following table highlights:
Issue
Date
Date of First
Reported Sales
Sales on First
Reported Date
Total Sales
2007 US Mint Set
Oct. 9, 2007
Oct. 14, 2007
361,578
907,886
2008 US Mint Set
July 30, 2008
Aug. 3, 2008
234,762
745,464
2009 US Mint Set
Oct. 1, 2009
Oct. 4, 2009
297,842
?
The 2009 US Mint Set is pricier this year (by $5), as it contains more coins than any annual set ever offered by the United States Mint. With its compliment of 36 coins struck in a special satin finish and in uncirculated condition, the set offers a unique opportunity for collectors and provides the only way to finish a complete collection of:
Appealing strongest to most collectors, and a contributing factor in spiking sales, are the four 2009 Lincoln pennies. These one-year only coins are minted with 95% copper, 3% zinc and 2% tin composition, which is the original alloy of the inaugural 1909 penny. And again, to reiterate, the 2009 US Mint Set is the only way to acquire cents in special satin, uncirculated condition.
The set set may be found on http://www.usmint.gov/, or directly on the US Mint page:
2009 United States Mint Uncirculated Coin Set® (U09)
Orders may also be placed via the Mint's toll-free number, 1-800-USA-MINT (872-6468). Hearing and speech-impaired customers may order by calling 1-888-321-MINT (6468).