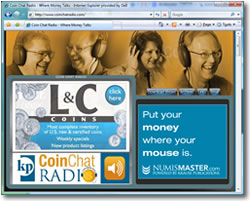 The United States Congress is considering new commemorative silver dollars to mark the 10th anniversary of the September 11, 2001 terrorist attacks, Bob Van Ryzin reveals during his "What's In the News" segment on this week's Coin Chat Radio.
A suggested mintage of up to 2 million coins could be struck with a $10 surcharge added to the price of each that would be forwarded to the National September 11 Memorial and Museum.
Also under consideration is a $5 gold piece and silver dollar for 2012 that would celebrate the 190th anniversary of the writing of the Star Spangled Banner by Francis Scott Key.
Professional Numismatists Guild President Paul Montgomery spends a few moments with Numismatic News Editor Dave Harper discussing a new agreement to have a PNG Day at the Money Show of the Southwest in Houston coming up on December 2, 2009.
"I think that this is something that the PNG has been looking forward to, an opportunity like this for years," explains Montgomery when asked why the show in Houston was picked for the PNG event. "I think that the Greater Houston Coin Club has been looking for an opportunity like this for years. And I think that this is just the time that we got together and married the organizations."

"I think that the Houston venue is great because we're not here yet," Montgomery continues when pressed by Harper on why Houston and not another city was chosen. "We spend a lot of time in Long Beach every year, the dealers do, in California. We go up the coast into San Jose and there's good coin shows up there.

We do the east coast with Baltimore and then we do the central part of the United States in different cities like Chicago and St. Louis. But we've never really spent a lot of time in Texas, and it's a huge population, and it's a wealthy population, and it's a population of people that collect."
Another major factor in the decision for Texas was that the state and city are considered sales tax friendly for coin dealers, easing the burden sometimes placed on those dealers who travel in trying to figure out the different taxes that need to be collected.
The PNG day is by invitation only, but Montgomery was very quick to offer an invite to anyone who would like to attend. Those interested just need to contact PNG.
Editorial Director Debbie Bradley then talks with the Commission of Fine Arts Secretary Tom Luebke about the 2010 America the Beautiful Quarters. Keep in mind the Commission is responsible for reviewing design candidates for new coins and making their recommendation to the Secretary of the Treasury.
"There is two reasons why they may be problematic or pose special issues," responds Luebke when Bradley asks if the designs for the new quarters present any special challenges.

"One is that, in the case of a lot of the state quarters, they had already given their best shot. For example, Arizona has already depicted the Grand Canyon and, of course, the Grand Canyon is the National Park they are going to show on their park. So there is a little bit of duplication which is a trick.

The other is that many of these national sites are really notable for their great scale. You know their big landscapes…and you try to depict these images somehow convincingly on something that is extremely small."
"Freshly Minted" with Lisa Bellavin closes out this week's episode of Coin Chat Radio with information on the new 40th anniversary 50p silver proof set from the Royal Mint. This set contains 16 coins featuring reverse designs that graced the 50p coins at one time or another over the years.
Coin Chat Radio can be heard by going to their website, http://www.coinchatradio.com. Those interested may also find the free Coin Chat Radio player on sites like http://www.coincollectingnews.org.
For CoinNews articles on the above discussed coin legislation, read 9/11 Coins Proposed and Star-Spangled Banner Coins Pass House.