(Newport Beach, California) – The Professional Coin Grading Service has established a new category in its popular PCGS Set RegistrySM program, the "Everyman" Collections. No coins graded higher than AU58 can be registered in this category.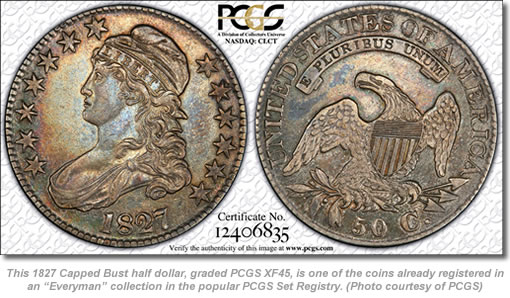 "The PCGS Set Registry is home to many of the finest collections ever assembled, but some collectors have stayed away from 'the classics' because the costs to acquire Mint State or Proof specimens are prohibitive.

So, we've created a way for all levels of collectors, entry-level through experienced, to enjoy the fun and competitive nature of the Registry without spending a fortune on Gem Mint State coins," said BJ Searls, Set Registry Manager.
"Major Registry categories will now have a separate Everyman Collections listing where the highest graded entry will be AU58. With Everyman Collections there's a good chance your set will rank in the top 20 on the first page, rather than near the bottom of the third or fourth page of that group."
The Everyman categories now available are:
Half Cents
Large Cents
Small Cents through 1958
Two Cents, Three Cents and Half Dimes
Nickels through 1938
Dimes through 1945
Twenty Cents
Quarter Dollars through 1964
Half Dollars through 1963
Silver Dollars through 1935
Non-modern gold coins
Searls also announced a convenient new feature available as part of the "My Set Registry."
"Now you can submit all the changes to your sets with one click rather going to each set to make the changes. This is a time saver for collectors who are especially active in the Registry," she explained.
Established in 2001, the PCGS Set Registry now hosts over 43,500 sets. In addition to every major U.S. coin series, it offers categories for Australian, Austrian, British, Canadian, Mexican, Costa Rican, Chinese, Cuban, Dominican Republic, Euro, German, Indian, Irish, Japanese, New Zealand, Panamanian, Philippine Puerto Rican, Russian, South African and Swiss coins. Collectors compare their collections to other current and all-time great collections. Sets are ranked in the order of grade point average, completion and overall rating.
For additional information, visit www.pcgs.com/setregistry/information.html.
# # #
About PCGS
PCGS is the world's largest rare coin authentication company and a division of Collectors Universe, Inc. (NASDAQ: CLCT). Additional information is available from Professional Coin Grading Service at (800) 447-8848. E-mail: info@PCGS.com Website: www.pcgs.com.
About Collectors Universe (NASDAQ: CLCT)
Collectors Universe, Inc. is a leading provider of value added services to the high-value collectibles markets. The Company authenticates and grades collectible coins, trading cards, autographs and stamps. The Company also compiles and publishes authoritative information about United States and world coins, collectible trading cards and sports memorabilia and collectible stamps and operates its CCE dealer-to-dealer Internet bid-ask market for certified coins and its Expos trade show and conventions business. This information is accessible to collectors and dealers at the Company's web site, www.Collectors.com, and is also published in print.