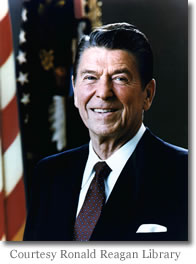 The relative silence on the coin legislation front was broken Friday with the introduction of a new bill seeking to celebrate former President Ronald Reagan's life with gold and silver coins.
The Ronald Reagan Commemorative Coin Act of 2009, or H.R. 3341 for short, is the first bill in July and one of only a handful in the last three months that have been brought forward in the U.S. House of Representatives.
H.R. 3341 would authorize the United States Mint to strike up to 50,000 $5 gold coins and a maximum of 300,000 $1 silver coins in 2013. It was introduced by Rep. Robert Latta [R-OH] and has the current support of 29 cosponsors.
In atypical fashion, the bill is more succinct than most when it comes to coin design. The obverse or heads side of the coin would bear an image of Ronald Reagan as most would expect. The unusual details comes with specific directions for the opposite side of the coin.
The coin would "bear a design on the reverse side that is similar to the depiction of an American eagle carrying an olive branch, flying above a nest containing another eagle and hatchlings," H.R. 3341 states.
Modern commemorative coins always include surcharges. In this case, $35 per gold coin and $10 per silver. These would be paid to the Secretary to the Army Emergency Fund to be used for the purposes of providing financial assistance to:
(1) An individual who is an Army active duty soldier, single or married, or a dependent of such a soldier.
(2) A member of the Army National Guard or Army Reserve on continuous active duty under title 10, United States Code, for more than 30 consecutive days, or a dependent of such a member.
(3) A soldier retired from active duty because of longevity or physical disability, including any Army National Guard or Army Reserve soldier who is in receipt of Army retired pay, or any authorized dependent of such soldier.
(4) A surviving spouse or dependent child of a soldier who died while on active duty or after retirement.
Bills of the same name were introduced in the 108th and 109th Congress, but failed to pass through both houses. The latest bill within the 111st Congress has been referred to the House Committee on Financial Services.
For coin bills to become law, they must pass both in the House and Senate, and get signed by the President.