Gold retreated Tuesday as the U.S. dollar rallied against other world currencies, crude-oil fell for the first time in four days and consumer confidence weakened. Silver and platinum also declined while U.S. stocks ended mixed with slight vertical movement.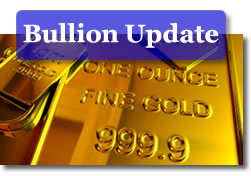 In New York trading futures for bullion:
Silver for September delivery lost 25 cents, or 1.8 percent, to $13.74 an ounce.

Gold for August delivery fell $14.40, or 1.5 percent, to $939.10 an ounce.

October platinum slipped $25.90, or 2.1 percent, to $1,196.60 an ounce.
Notable precious metal quotes of the day follow:
"Gold has been tracking the U.S. dollar," Citigroup analyst David Thurtell was quoted on Reuters. "I suspect that quite a large stop was triggered just below the $952 mark."
"We had as pure a dollar-oil-gold play as one can conceivably design on paper, albeit, given the 0.34 point rise in the dollar index, one would have expected smaller-scale losses in bullion," wrote Jon Nadler, senior analyst at Kitco Metals Inc.
"It is rather painful to describe the moves in gold solely in terms of the euro-U.S. dollar, but that is all that seems to be driving the gold price at the moment," John Reade, UBS AG's head metals strategist in London, was quoted on Bloomberg. "Jewelry, physical investment and ETF flows remain very quiet."
In London bullion, the benchmark gold price was fixed $10.75 lower earlier in the day to $944.25 an ounce. Silver was set back 4 cents to $14.02 an ounce. Platinum was adjusted $2 higher to stand at $1,213.00.
Gold, considered a hedge during times of high inflation and economic uncertainty, tends to follow oil and move opposite to the U.S. dollar. A rising greenback makes dollar-denominated commodities, like bullion, more expensive for holders of other world currencies.
Oil and gasoline prices
Oil was hit for losses on Tuesday and for the first day in four "as investors sold futures to lock in gains on concern prices have climbed too far amid expectations of a drop in demand, " wrote Christian Schmollinger of Bloomberg.
"Oil hit some strong bear headwinds as BP came out with a negative forecast on oil demand and consumer confidence fell, coupled with earnings that were less than stellar," said Kevin Kerr, president of Kerrtrade.com.
The Conference Board's confidence index fell for a second decline to 46.6 after a 49.3 level in June.
New York crude-oil for September delivery lost $1.15, or 1.7 percent, to close at $67.23 a barrel.
Prices at the pump continued to move higher, however. AAA reported that the national average for unleaded gasoline rose one-half cent to $2.505 a gallon. The price is 4.7 cents higher than last week, 13.8 cents less than a month back, and $1.45 lower than a year ago.
U.S. Stocks
U.S. stocks closed mixed on Tuesday with small losses for the Dow and S&P and a modest rise in the Nasdaq. The mixed readings came "as investors weighed a weaker-than-expected consumer confidence report and a better-than-expected housing report in the aftermath of a big rally," writes Alexandra Twin of CNNMoney.
The Dow Jones industrial average slid 11.79 points, or 0.13 percent, to 9,096.72. The S&P 500 Index lost 2.56 points, or 0.26 percent, to 979.62. The Nasdaq Composite Index gained 7.62 points, or 0.39 percent, to 1,975.51.
Check out additional market resources at Live Bullion Spots, the Silver Calculator, U.S. Mint Collector Bullion Price Guide, and the Inflation Calculator.