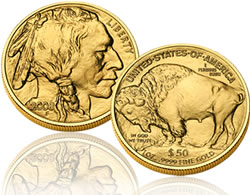 2009 American Buffalo Gold Bullion coins will be produced this year, despite earlier reports to the contrary, a United States Mint public notice reveals.
Coin World broke the news in June, reporting that the US Mint would (at some future time) produce only the collector one-ounce, 24 karat Buffalo gold proof coin in 2009, and not the same-designed $50 bullion coin intended for investors.
However, an updated message appearing in the US Mint press room over the weekend reveals a new direction:
2009 American Buffalo Gold Bullion Coin Update — Annual production of the United States American Buffalo Gold Bullion Coins is required by law. As a result, the United States Mint is presently developing a production and launch schedule to determine the earliest possible release of these coins through the Authorized Purchaser network.
The Mint offers bullion coins only to authorized purchasers, who then sell to dealers, investors and/or directly to the public. These coins are minted at West Point, but lack the proof finish and the "W" mint mark as seen on collector versions.
The modern Buffalos, featuring the 1913 Buffalo nickel design, are the first .9999 fine 24-karat gold coins struck by the US Mint and delivered through its purchaser network. They were authorized through the Presidential $1 Coin Act of 2005 and first issued in June 2006 with exploding sales. Although demand has slipped since the inaugural launch, yearly sales numbers have been significant:
American Buffalo Gold Bullion Coin Sales
2006
2007
2008
323,000
167,500
172,000
Last year figures are not what they could have been. The Buffalo coins were suspended in September 2008 as a result of a depleted inventory, and have not been produced since.
Other US Mint bullion coins, like the American Gold and Silver Eagles, have been struck and sold in 2009 but were rationed through to June 15. The Mint stopped allocating coins after and appears to be have sufficient bullion coin blanks on hand to meet demand, although it has yet to strike any 2009-dated American Eagle collector coins.
The actual message, as seen on the Mint web site, follows: