Many sources proffered concerns over swine flu, as a catalyst for markets moving Monday as they did. For specific trends, gold stepped slightly back from a three-week high, platinum declined heavily, oil sank, and U.S. stocks slipped. In contrast, silver shined.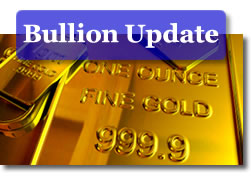 In New York trading futures for bullion:
Silver for May delivery rose 3.5 cents, or 0.3 percent, to $12.955 an ounce.

Gold for June fell $5.90, or 0.6 percent, to $908.20 an ounce.

July platinum lost $33.70, or 2.8 percent, to $1,150.30 an ounce.
"Gold started the week with a loss as players observed the rising U.S. dollar, slipping oil, and were seen as apprehensive about the Dow," wrote Jon Nadler, senior analyst at Kitco Bullion Dealers. "The swine flu pandemic might be the one surprise event of 2009 that could engender a quick run into gold for the duration of the panic phase," added Nadler
In spot bullion, the benchmark London gold fix price stood at $907.50, which was unchanged from Friday. Silver gained 20 cents to $12.98 an ounce. Platinum was fixed $30.00 lower to $1,145.00.
Gold, considered a hedge during times of high inflation and economic uncertainty, tends to follow oil and move opposite to the U.S. dollar. A rising greenback makes dollar-denominated commodities, like bullion, more expensive for holders of other world currencies.
Oil and gasoline prices
Oil futures fell harshly on Monday. Crude for June delivery tumbled $1.41, or 2.7 percent, to $50.14 a barrel. In better news for consumers, prices at the pump declined. AAA said the national average for unleaded gasoline was two-tenths of a cent lower than Sunday, falling to $2.050 a gallon. The average price per gallon is now eight-tenths of a cent lower than a week ago.
U.S. Stocks
In U.S. stocks, the Dow Jones industrial average lost 51.29 points, or 0.64 percent, to 8,025.00. The S&P 500 Index declined 8.72 points, or 1.01 percent, to 857.51. The Nasdaq Composite fell 14.88 points, or 0.88 percent, to 1,679.41.
Check out additional market resources at Live Bullion Spots, the Silver Coin Melt Calculator, U.S. Mint Collector Bullion Price Guide, and the Inflation Calculator.