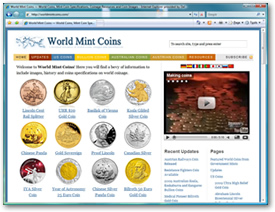 San Antonio, TX — Mike Unser, founder and president of CoinNews Media Group LLC, announced today the introduction of World Mint Coins, a public resource of modern U.S. and World coins located at www.WorldMintCoins.com.
World Mint Coins offers free information, specifications and high resolution images of modern coinage struck throughout the world.
Currently featured coins include those produced from the U.S., Australia, Austria as well as popular government silver, gold and platinum bullion coins minted from Canada, Mexico, China and more.
"We're extremely pleased in the enthusiasm collectors have already shown for World Mint Coins," Unser said.

"Too often coin sites are quicksand traps with visitors sprinting to exit. World Mint Coins features image guides that actually make it fun for a collector to click around and learn about new coins."
According to Unser, recent statistics show collectors spend more than five minutes on site per visit and read about six different coins.
Future plans for World Mint Coins include adding more modern coins from around the globe.
# # #
About CoinNews Media Group, LLC
CoinNews Media Group owns and operates several news and coin related sites where some 150,000 collectors spend time on each month. These sites include, but are not limited to: CoinNews.net, SilverCoinsToday.com, FirstSpouseCoins.us, CoinCollectingNews.org and 2009LincolnPennies.com.