Rare Nicholas I Rouble and a solid gold "Money Chain" highlight the offerings
DALLAS, TX — International variety will be the name of the game at Heritage Auction Galleries Long Beach World Coin Auction, May 28-29 and 31, with an exceedingly rare 1770 Nuevo Reino Pillar Dollar anchoring the country and continent spanning collection.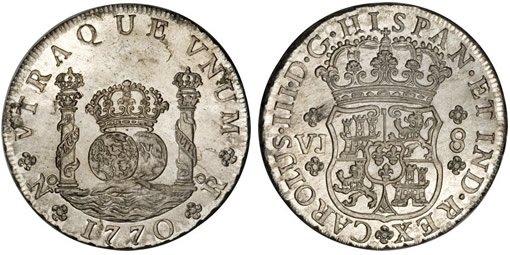 Of the two that aren't already in private hands – or held by private institutions – this one is by far the more pristine. It's estimated at $60,000-$80,000 and officially listed as a Carlos III Pillar 8 Reales 1770NR-VJ, KM39 (Date Unlisted), Calico 1000, Cayon Unlisted, MS64 NGC.
Until three years ago, no one even knew that the 1770 Nuevo Reino Pillar Dollar existed. That changed quickly, however, when an amazing stash of 14 coins was found during the bulldozing of a parking lot in Bogota that was being razed for a new building. Buried beneath the dirt and the decades was the old foundations of the Nuestra Senora del Pilar church.
The church, which existed from 1770 until 1948 when it was set ablaze during riots, was also a convent and school for girls. The church was eventually torn down and the area turned into a parking lot. When construction began on a new building three years ago and crews started digging, a small group of coins turned up – including the 14 1770 Nuevo Reino Pillars.
"The amazing thing about this Pillar Dollar," said Cristiano Bierrenbach, Director of International Sales at Heritage, "is that we can actually trace it to the very day and place of its minting. The entire history of this coin, and the reason for which it was created, is right on its face."
Under a special "Treasure" section, we have this "Money" chain, probably one of the largest ever recovered from a shipwreck, weighing more than 57 ounces of pure gold. The massive gold "Money Chain" from the Santa Margarita Wreck (circa 1620), 407 solid links, more than 10 feet long, and weighing 57.55oz (1789.8 grams), 22 karat certainly meets the criteria for the lot most likely to inspire buyers; it's hard to imagine that a heavier gold "money chain" exists.
It is likely the same chain that Mel Fisher is holding on page 183 of Sunken Treasure: Six Who Found Fortunes by Robert F. Burgess. The chain was previously on loan to Mel Fisher's Museum in the Florida Keys. It carries a pre-auction estimate of $75,000 – $90,000.
A very impressive Nicholas I Novodel 1-1/2 Family Rouble, Bit-H889 (R1), Proof 65 NGC, will make an appearance at Long Beach, and it is one of the finest known Russian "Family" Roubles ever seen, and one of the two finest examples certified by NGC. The obverse is signed П.У., the reverse is unsigned with a bust of Nicholas I right/Bust of Empress Alexandra in the center, facing right, surrounded by busts of the Royal children with no circles. By far the finest example Heritage has offered and one of the most recognizable treasures of Russian numismatics. It carries a pre-sale estimate of $75,000-$100,000.
An outstanding Felipe V Portrait gold 8 Escudos 1733Mo-F, KM148, Cayon-10030, Calico-422, MS64 NGC will have collectors of Spanish gold on the edge of their seats when it looks for a new owner at Long Beach. Felipe V, King of Spain, was born at Versailles on December 19, 1683 and is the first king of the Bourbon dynasty, which rules Spain to this day. He produced a considerable amount of diverse coinage, the best of which feature his armored bust, and flowing locks cascading down over his shoulder.
In 1732, the mintage of gold coins was changed at the Mexico City mint from the medieval style, featuring a huge cross and the royal crest, to the portrait type. The initial dates of 1732 and 1733 are very rare, with only the letter "F" being featured as the assayer's initial (this changed to "MF" in 1734). Another 1733 8 Escudos from Mexico in the same grade realized $54,625 in Heritage's January 2009 NYINC sale. This lot carries with it an estimate of $30,000 – $40,000.
Another highlight of the May 28-31 Long Beach Rare World Coin Auction includes a rare and popular South African Veld Pond 1902, KM11, MS64 NGC, easily one of the finest certified examples struck during the siege of Pilgrim's Rest at the end of the Boer War. Its pre-auction estimate is $25,000 – $30,000
Guatemala has remained a very popular area of collecting for buyers of rare world coins, and a Ferdinand VI gold 8 Escudos 1754G-J, KM7, Calico 551, XF45 NGC, possibly the finest known of this very rare issue, will be available to a very erudite Latin American coin collector at Long Beach. The Guatemalan 8 Escudos were first machine-struck in 1754 during Ferdinand VI's 13-year reign. 1754 was also the first year where the actual bust of Ferdinand VI was used, as opposed to that of Felipe V. It carries an estimate of $30,000-$40,000.
For more information on any of these lots, to view the entire Long Beach catalog and to read detailed descriptions and download fully enlargeable, hi-res images, follow this link.
To discuss consigning ancient or world coins to Long Beach or another upcoming auction, please call Cristiano Bierrenbach at 800-872-6467 Ext. 1661 or Warren Tucker at Ext. 1287.
Heritage Auction Galleries is the world's third largest auction house, and by far the largest auctioneer of rare collectibles, with annual sales over $600 million, and 400,000+ registered online bidder-members. For more information about Heritage's auctions, and to join and gain access to a complete record of prices realized, along with full-color, enlargeable photos of each lot, please visit www.HA.com.  
Want to get the up-to-the-minute updates and breaking news stories about Heritage? Get them as they happen at: www.Twitter.com/HeritagePress; www.Twitter.com/JimHalperin; Facebook: Heritage Auction Galleries.
# # #