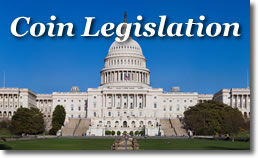 Following a two-week recess, legislatures returned to work and quickly added three coinage related bills in three days. The two newest bills on Thursday complement legislation already introduced.
In the House, Rep. C.A. Dutch Ruppersberger sponsored H.R. 2097. The bill is a companion to the Senate's S. 653, known as the Star-Spangled Banner Commemorative Coin Act. The legislation would authorize 500,000 silver $1s and 100,000 $5 gold coins in proof and uncirculated for 2012 to celebrate the bicentennial of the writing of the Star-Spangled Banner.
In the Senate, Sen. John Kerry brought forth S. 883, which complements House bill H.R. 1209, known as the Medal of Honor Commemorative Coin Act of 2009. The bill seeks 500,000 silver dollars and 100,000 $5 gold coins in proof and uncirculated for 2011 in recognition and celebration of the establishment of the Medal of Honor in 1861.
Neither of the two new bills have yet been published, but their language is likely almost identical to their counterparts. For any bill to become law, it must pass both in the House and Senate, and get signed by the President.
On Tuesday, H.R. 2001 was introduced that would issue silver, gold and clad US Battlefields Commemorative Coins.