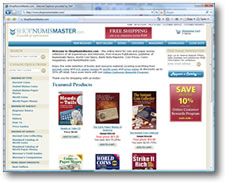 To the expected delight of coin and paper money enthusiasts, Krause Publications (KP) has launched a new online store dedicated to bringing " information, tips, and inspiration for collectors."
KP on Monday announced the opening of ShopNumisMaster.com, which features an array of premium numismatic offerings.
"For years, online customers of Krause Publications' numismatic products needed to visit several Web sites to find the various products we have available," said Scott Tappa, KP numismatics publisher.

"Now with our new online store, coin and paper money enthusiasts can learn more about our books, DVDs and CDs, downloads, and magazine products all in the same location. With our broad offerings, we think it will be difficult for a numismatist to leave ShopNumisMaster.com without making a purchase."
Visitors to the site are greeted with special grand opening prices that last until April 22. Everything is 25 percent off. Free shipping is also available for orders over $49.
Further, collectors can save an extra 10% through ShopNumisMaster's "Online Customer Rewards Program." Anyone who spends $100 or more will automatically receive a %10 discount on their next online purchase.
Krause Publications was formed in 1952 when founder, Chester Krause, rolled out the first issue of the cornerstone Numismatic News publication, which today continues to have a strong presence in the coin-collecting hobby.