In stopping by Tom Michael's blog, Big Ideas, Little World, he reminded readers of a 15% discount on Krause Publications™ Books through Wednesday, April 30.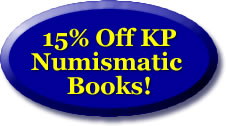 Krause Publications, also known as "KP" for short, offers an excellent selection of numismatic books by industry experts. They have an assortment of books within the major numismatic categories of:
World Coins
Ancient Coins
United States Coins
United States Paper Money
World Paper Money
The books are worth their face value, but saving a few bucks to help purchase that next coin is a welcomed announcement I'm more than happy to pass around.
Coupon Code and order location
Mr. Michael's, who also happens to be a 20+ year employee of KP, indicates the coupon code to use when ordering the books online is:
Coupon Code: NNWB48
The direct link to KP's numismatic book area is:
Remember to order by Wednesday. Good luck in finding a new book for your library!
Editor's note: Like any of the recommendations coming from CoinNews, we receive no money nor accept any financial incentives for our reviews.