In celebration of the 250th anniversary of his birth, the British Royal Mint has released Robert Burns £2 Silver and Gold Proof Coins. Robert Burns, sometimes called Scotland's favorite son and still known worldwide for his work, was a poet and lyricist in the 1700's.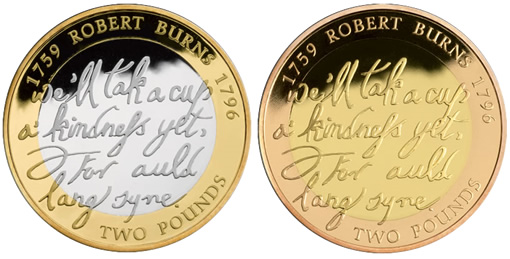 In a two room cottage (now known as Burns Cottage) in Alloway Scotland, Robert Burns was born on January 25, 1759. Robert's mother would often sing traditional Scottish songs to him and his younger brother. His father, who was a firm believer in education, helped to persuade area residents to hire a schoolteacher named John Murdoch for all of their children. Murdoch said that Robert could quickly memorize whole passages of text. This memory would serve him well later in life.
At age 7, the family moved to Mount Oliphant farm where life was harder. Economic and legal situations forced Robert at a young age to help his father in the fields, but that never stemmed his creativity. At age 15, he wrote his first song "Handsome Nell" for Nellie Kirkpatrick, who worked with him in the fields. This would be the first of many songs and poems he would write about women.
Known in the area for his love affairs, Robert had an illegitimate child with his mother's servant in 1785. The following year he had twins with Jean Armour, whom he would marry a few years later. However, before this marriage occurred, he had an affair with Mary Campbell, and both made plans to immigrate to Jamaica.
Fame and death would prevent Robert's move to the island. First Mary died while waiting for Robert to join her for the trip. Second, Robert was able to publish his first work named Poems, Chiefly in the Scottish dialect. This made him a celebrity in the country.
Unable to financially support himself with his writing, Robert continued to find work in other ventures. Still, he remained quite prolific in his poems and song. He also spent time collecting and revising traditional Scottish songs for inclusion in "The Scots Musical Museum." This collection was meant as a way of preserving the songs for history. Probably most famous of these is "Auld Lang Syne" — a tune now traditionally sung on New Year's Eve, which Burns himself admitted he could not take complete credit for when he said:
"The following song, an old song, of the olden times, and which has never been in print, nor even in manuscript until I took it down from an old man"
Robert died at the young age of 37 on July 21, 1796. Still remembered to this day in Scotland, they celebrate the Burns Supper on the anniversary of his birth.
Burns Proof Coins: Designs, Specifications and Prices
The reverse or tails side of the proof coins do not depict an image of Burns, but instead feature a portion of "Auld Lang Syne" in Burns' own handwriting. It was designed by The Royal Mint Engraving Team.
The obverse or heads side of each legal tender coin has the current portrait of Her Majesty The Queen by Ian Rank-Broadley FRBS.
An edge inscription says "SHOULD AULD ACQUAINTANCE BE FORGOT."
The proof silver coin is limited to 20,000, struck from .925 sterling silver, weighs 12 grams and has a diameter of 28.4 mm. The issue price is £34.99, and may be ordered on the following Mint page:
2009 UK 250th Anniversary of the Birth of Robert Burns £2 Silver Proof
The proof gold coin is limited to 1000, struck from .22 carat gold, weighs 15.98 grams and has a diameter of 28.4 mm. The issue price is £595.00, and is available online at:
2009 UK 250th Anniversary of the Birth of Robert Burns £2 Gold Proof
Bi-metal brilliant uncirculated versions of the coin are also available in a 2009 UK Burns Celebration Pack for £5.00, and in the 2009 Birth of Robert Elliot Burns £2 BU offering for £7.99.
About The Royal Mint
The Royal Mint is a department of government and its primary responsibility remains the provision of the United Kingdom coinage. Its reputation, however, extends beyond this and internationally it has a reputation for making some fascinating coins for over 100 countries.
The history of the Royal Mint itself stretches back over 1100 years. There is an unbroken link from the scattered workshops of the moneyers of Anglo-Saxon London to a single mint within the Tower of London, from a purpose-built premises at Tower Hill to the huge modern coining plant in South Wales.
In April 1975 the Mint was established as a Government Trading Fund, operationally very similar to a government-owned company.