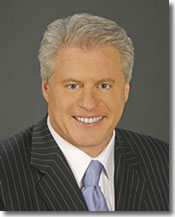 (Dana Point, California) — Nationally-known political leader, author and economic crusader, Wayne Allyn Root, the 2008 Libertarian Party Vice Presidential nominee, has been named National Spokesman and Chief Economic and Political Strategist for Rare Coin Wholesalers of Dana Point, California (www.RCW1.com), one of America's premiere rare coin and gold bullion companies.
Root advocates a free market economy, dramatically smaller government, lower spending, lower taxes and reduced government regulation.
"Every investor looking at today's economy needs to know about the importance of tangible assets in any diversified portfolio, particularly gold and investment-quality rare coins. We are proud to announce the dynamic Wayne Allyn Root as our National Spokesperson to spread the word," said Steven L. Contursi, President of Rare Coin Wholesalers.
Root, author of an upcoming book on America's political and economic challenges, warns investors, "Tangible assets will be critical to any portfolio given the economic nightmare are facing. President Obama's drastic tax hikes for high-income earners and small business owners will result in dramatically lower productivity, massive job losses, and far lower tax revenues than projected, and all at the same time that Obama has raised government spending to the highest level in history. Now add in cap and trade taxes and card-check legislation (making it far easier for employees to unionize). That is all a recipe for economic disaster; budget deficits far above what has ever been imagined; massive inflation; and the American economy becoming one big Detroit. The only way for Obama to pay the bills will be to continue inflating the money supply by asking the Federal Reserve to print record amounts of money."
Root continued, "That's why I'm so thrilled to join the Rare Coin Wholesalers family. They're America's premiere rare coin and gold bullion company whose owner, Steve Contursi, bought and sold over one billion dollars worth of rare coins since 1975. This is the kind of company that I'm proud to provide my economic and political expertise to. It is a great honor to serve as their National Spokesman."
Root's latest book, "The Conscience of a Libertarian: Empowering the Citizen Revolution with God, Guns, Gambling & Tax Cuts," will be published this spring by John Wiley & Sons. The book will contain Root's solutions to solving the worst economic crisis since 1929, including a one year suspension of all income taxes to provide relief to American taxpayers and small business owners- the very people government should be helping.
In recent years Rare Coin Wholesalers has acquired and exhibited across the country some of the most famous and valuable United States rare coins.
These include the specimen 1794 dollar believed by many experts to be the very first U.S. silver dollar ever struck, and insured today for $10 million; America's first gold coin, the unique 1787 Brasher Doubloon hand-struck by George Washington's New York City neighbor and insured now for $6 million; and the legendary King of Siam proof set of U.S. coins specially produced on behalf of President Andrew Jackson for presentation as a diplomatic gift, and acquired by Rare Coin Wholesalers President Contursi for a record $8.5 million.
For additional information, contact Rare Coin Wholesalers at (800) 347-3250, or online at www.RCW1.com. For additional information about Wayne Root visit www.RootForAmerica.com.
# # #