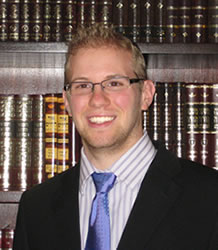 Yosef Baker has been named Numismatic Buyer for Rare Coin Wholesalers of Irvine, California (www.RCW1.com). He will be the company's East coast representative and based in Union County, New Jersey near the metropolitan New York City area, according to Steven L. Contursi, President of Rare Coin Wholesalers.
"Yosef began collecting coins at the age of seven when his grandfather gave him a Morgan dollar for his birthday. Since then he's been an avid collector and passionate numismatist. In 2009, at the age of 21, he opened his own company, BSD Coins, and now has joined the RCW team as our East coast buyer," said Contursi.
"The Morgan dollar given to me was just the stepping stone to my numismatic interest," recalled Baker. "I remember subsequently buying my first 'Redbook' and imagining all the cool coins that I could own if I just had the money. Currently, I personally collect Capped and Draped Bust dimes."
"I'm very excited to be working with such a knowledgeable numismatist as Mr. Contursi, and I look forward to learning all that I can from his years of experience," said Baker.
In addition to his numismatic interests, Baker has a degree in psychology and is studying at Kean University in Union, New Jersey to obtain a doctorate in physical therapy.
Over the decades, Contursi and the RCW team members have bought and sold a combined total of over a billion dollars in rare coins, and owned or participated in the purchase or sale of the most of the rarities listed in the book, 100 Greatest U.S. Coins.
For additional information, contact Rare Coin Wholesalers, 8015 Irvine Center Dr., Suite 440, Irvine, California. Phone (800) 347-3250 or visit online at www.RCW1.com.