Gold climbed Tuesday for the first day in three, but closed down for the month of March. A weakened U.S. dollar helped gold's appeal Tuesday, although it could not boost silver as it fell below $13 an ounce. In other markets, platinum, crude and U.S. stocks inched higher.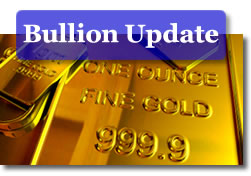 In New York bullion trading futures:
Silver fell 4.8 cents, or 0.4 percent, to $12.985 an ounce.

Gold gained $7.10, or 0.8 percent, to $922.60 an ounce. Gold lost 2.1 percent in March, but gained 4.3 percent for the quarter.

Platinum climbed $7.20, or 0.6 percent, to $1,120.80 an ounce.
"For investors who are concerned about the long-term prospects of the U.S. dollar, gold may be attractive," John Reade, a UBS AG metals strategist, was quoted on Bloomberg. "In an environment where the reserve currency of the world could become shunned, gold could do extraordinarily well."
"Gold is supported by weakness in the dollar today and expected dollar weakness in the coming months as the Federal Reserve's balance sheet deteriorates further and U.S. budget deficits and the national debt rise very significantly," Mark O'Byrne, executive director at Gold and Silver Investments, was quoted on MarketWatch.
"For now, gold remains 'home on the range' and that range is being seen as the $895-965 acreage in values, wrote Jon Nadler, senior analyst at Kitco Bullion Dealers.
In spot trading, the London afternoon gold-fixing price, which is a benchmark for gold traded directly between big institutions, stood at $916.50 an ounce. The London market for silver and platinum ended at $13.11 and $1,124.00, respectively.
Gold, considered a hedge during times of high inflation and economic uncertainty, tends to follow oil and move opposite to the U.S. dollar. A rising greenback makes dollar-denominated commodities, like bullion, more expensive for holders of other world currencies.
Oil and gasoline prices
Crude-oil rebounded Tuesday following the previous day's $3.97 a barrel plunge. Crude for May delivery gained $1.25, or 2.6 percent, to $49.66 a barrel. Oil ended up 10.9 percent in March, and marked its biggest monthly gain since May.
For the first day in many, prices at the pump held steady. The average price for unleaded gasoline remained at $2.048 a gallon, although that is still higher by 8.2 cents compared to a week ago.
U.S. Stocks
U.S. stocks surged Tuesday with the Dow marking its first month of gains (up 6.5 percent) after six consecutive declines and the S&P having its best month (up 7.1 percent) since October 2002. The Nasdaq rose 9 percent on the month. All three indexes, however, ended lower for the quarter.
For the daily numbers, the Dow gained 86.90, or 1.16 percent, to 7,608.92. The S&P rose 10.34 points, or 1.31 percent to 797.87. The Nasdaq added 26.79 points, or 1.78 percent, to 1,528.59.
Check out additional market resources at Live Spots, the Silver Coin Melt Calculator, U.S. Mint Collector Bullion Price Guide, and the Inflation Calculator.