Gold and silver dropped Tuesday for the second consecutive day while platinum rose, oil jumped above $49 a barrel to a three-month high, and U.S. stocks rallied.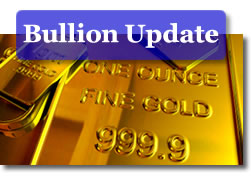 Looking at the daily numbers, New York silver and gold futures fell 1.7 percent and 0.6 percent, respectively. Platinum improved slightly by 0.2 percent.
The Dow gained over 2 percent with 15 minutes left in trading. The S&P advanced 2.6 percent and Nasdaq rose 3 percent.
Crude-oil for April delivery surged $1.81, or 3.8 percent, to close at $49.16 a barrel. AAA said the average price for regular unleaded gasoline was unchanged from Monday at $1.910 a gallon.
May silver lost 22 cents to close to $12.67 an ounce.
April platinum gained $2.40 to $1,051.80 an ounce
Gold for April delivery fell $5.20 to end at $916.80 an ounce.
"The gold market recently has traded both alongside the equity market and inversely to it," Tom Pawlicki, an analyst at MF Global Ltd. in Chicago, was quoted on Bloomberg. "The theory behind a negative correlation is the safe haven that gold provides, while the theory behind a positive correlation is that higher stocks mean more money will be spent on jewelry."
"Most scrap holders are now targeting the $920 zone for pending sales orders, while buyers are showing interest in picking bullion up only when/if gold touches down somewhere between $875 and $905, " Jon Nadler, senior analyst at Kitco Bullion Dealers, wrote earlier Tuesday. "The lower the price, the more they plan to acquire."
In spot trading, the London afternoon gold-fixing price — a benchmark for gold traded directly between big institutions — stood at $915.50 an ounce. London silver and platinum were at $12.86 and $1,047.00, respectively.
Gold, considered a hedge during times of high inflation and economic uncertainty, tends to follow oil and move opposite to the U.S. dollar. A rising greenback makes dollar-denominated commodities, like bullion, more expensive for holders of other world currencies.
In other economic news Tuesday, the Labor Department reported that producer prices climbed 0.1% in February, which was lower than expected. The government's released Producer Price Index (PPI) data measures prices at the factory door and inflation pressures before they reach the consumer. The same month Consumer Price Index (CPI) report is scheduled for release on Wednesday at 8:30 AM ET. The CPI measures inflation pressures at the consumer level.
Check out additional market resources at Live Spots, the Silver Coin Melt Calculator, U.S. Mint Collector Bullion Price Guide, and the Inflation Calculator.