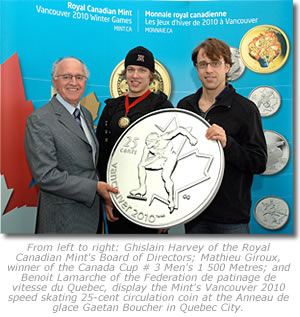 QUEBEC CITY, QUEBEC – The Royal Canadian Mint is releasing the latest circulation coin in its Vancouver 2010 collection – a 25-cent coin featuring the sport of speed skating. The coin was officially launched today at the Canada Cup #3 speed skating event in Quebec City, which is being held at the Anneau de glace Gaétan Boucher.
"Some of Canada's most memorable Winter Olympic moments involve thrilling victories in speed skating and the Mint is delighted to celebrate this sport in such a unique way," said Ian E. Bennett, President and CEO of the Royal Canadian Mint. "As we look forward to the Olympic speed skating competition next February at the Richmond Olympic Oval, we invite all Canadians to keep this special coin as a way to build momentum for the Games."
"We are thrilled to see our sport and athletes depicted on a commemorative coin in the lead up to the 2010 Olympic Winter Games," explained Jean R.Dupré, Director General of Speed Skating Canada. "Our athletes and teams have a long history of Olympic achievements, and we are excited to see they will live on forever with this piece of memorabilia."
Up to 22 million 25-cent speed skating coins will enter into circulation on March 12, 2009 and will be available exclusively at RBC branches and participating Petro-Canada locations.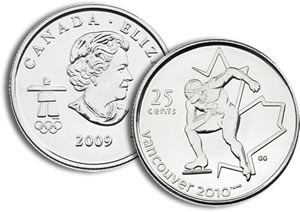 RBC is a Premier National Partner and Petro-Canada is a National Partner of the Vancouver 2010 Olympic and Paralympic Winter Games. Canadians can also look for these special coins in their change.
Participating Petro-Canada locations will also sell speed skating sport cards, containing a uniquely painted version of the coin, for $7.95.
Speed skating, which is the fastest human powered, non-mechanical aided sport in the world, has been part of the Olympic Games since the first Winter Games were held in Chamonix in 1924. Originally, only men took part in competition. At the Lake Placid 1932 Olympic Winter Games, women's speed skating was a demonstration event and became a full medal event at the Squaw Valley 1960 Olympic Winter Games.
There will be twelve speed skating competition events at the Vancouver 2010 Olympic Winter Games – six of each men's and women's' disciplines, including the team pursuit, which was first introduced as an Olympic event at the Torino 2006 Olympic Winter Games.
Designed by Canadian artist Glenn Green of Vancouver, BC, the speed skating circulation coin features a speed skater in the centre, a stylized maple leaf and the words 'Vancouver 2010'. The obverse features the portrait of Her Majesty Queen Elizabeth II, rendered by Susanna Blunt.
In addition to the circulation coin, the Mint is offering the following related keepsakes, located at www.mint.ca/2010: the sterling silver speed skating coin, featuring a stunning hologram ($71.95); the first day 25-cent speed skating coin ($15.95); and the 25-cent speed skating circulation coin roll ($16.95). These and other Royal Canadian Mint products are also available for purchase by calling 1-800-267-7000.
Canadians can still look forward to the release of the following Vancouver 2010 Olympic and Paralympic Winter Games themed circulation coins: two 25-cent coins will feature the sports of bobsleigh (June 23, 2009) and ice sledge hockey (March 16, 2010), while the 2010 Lucky Loonie will be launched on February 9, 2010, just prior to the Vancouver 2010 Olympic Winter Games.
On February 12th, the Mint and Canada's Olympic Broadcast Media Consortium launched the Top 10 Canadian Olympic Winter Moments contest, where Canadians are invited to select the Top 3 moments, which will be featured on 25-cent coins in late 2009. Visit CTVOlympics.ca and RDSOlympiques.ca to enter and for full contest details.
New Vancouver 2010 circulation coin collector card!
Looking for a way to keep and display your Vancouver 2010 circulation coins? The Mint's new Vancouver 2010 circulation coin collector card is designed to hold all 17 circulation coins and will be available starting March 12, 2009 at participating Petro-Canada locations.
No purchase is necessary. The card features a colour palette of bright blues and greens, similar to those of the Vancouver 2010 Olympic and Paralympic Winter Games. Until July 31, 2009, Canadians can also use the card to enter the "Get some luck" sweepstakes, which offers a grand prize of a trip for four to the Vancouver 2010 Olympic Winter Games or one of 600 exciting Royal Canadian Mint prizes.
About the Royal Canadian Mint
The Royal Canadian Mint is the Crown Corporation responsible for the minting and distribution of Canada's circulation coins. An ISO 9001-2000 certified company, the Mint is recognized as one of the largest and most versatile mints in the world, offering a wide range of specialized, high quality coinage products and related services on an international scale. The Mint is an Official Supporter of the Vancouver 2010 Olympic and Paralympic Winter Games and has undertaken to produce the most extensive circulation coin program in relation to the Olympic Games ever conceived by any mint worldwide, while also offering limited mintage collector coins and sets. Visit www.mint.ca/2010 for Vancouver 2010 keepsakes and gifts.